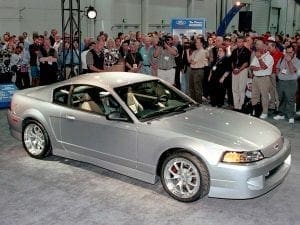 Demand for the 2011 Ford Mustang is heating up even though no models have been produced yet.  Since the order banks opened on January 18th customers have placed 11,000 orders for the 2011 Mustang GT, V-6 and Shelby GT500 models.  Production on the 2011 Mustang is slated for some time in April with models arriving at dealerships nationwide in early May.
Of the 11,000 orders placed so far 50 percent of those are for the V-6 Mustang, 41 percent are for the Mustang GT and 9 percent are for the Shelby GT500.  The overwhelming choice thus far is the V-6 Mustang which receives a 305 horsepower 3.7-liter V-6 engine capable of 30 mpg.
The 2011 Mustang GT receives the all-new 5.0-liter V-8 with 412 horsepower.  The Shelby GT500 recieves a new all-aluminum block 5.4-liter engine with 550 horsepower.
For more on the 2011 Mustang orders check out the press release below
Press Release:
The new 2011 Ford Mustang with all-new powertrains has  three times more orders than the 2010 model in its first month, and half of all nationwide orders are for the car's class-leading 30 mpg 3.7-liter V-6 engine.
"Fuel economy ranks among the top two reasons people choose vehicles," said Steve Ling, North America Car Marketing manager. "With the 2011 Mustang lineup, we've found a way to offer even better fuel efficiency for V-6, GT and even Shelby GT500 performance drivers – while improving performance. And consumers are responding."
Nearly 11,000 Mustangs have been ordered since order banks opened in late January.
Fifty percent of the 2011 Mustang orders are for V-6 models, which feature a new, high-performance, all-aluminum Duratec 3.7-liter dual overhead-cam (DOHC) Twin Independent Variable Cam Timing (Ti-VCT) engine. This new engine delivers 305 horsepower and an expected best-in-class EPA fuel efficiency of 30 mpg on the highway – a 25 percent improvement versus the 2010 model.
2011 Mustang V-6 order levels are up 19 percent versus the new 2010 model orders.
"The new engine transforms Mustang," Ling said. "Everything people love about the car lives on, and now under the hood is a V-6 engine that uses premium technology to deliver the power, the feel, the fuel efficiency, even the sound of the best sports cars in the world."
A first-ever Mustang Club of America (MCA) Special Edition package available on V-6 models generated three times more orders than expected. Plus, "take rates" on the California Special series – which is available on the Mustang GT and harkens back to the original 1968 feature vehicle – are triple the expected rates.
2011 Mustangs also are being equipped with record levels of technology. Navigation is specified on 18 percent of orders. High-intensity discharge (HID) headlamps are on 26 percent of vehicles. Rear-view cameras are on 10 percent – all up from 2010.
For the 2011 model, 41 percent of orders are for Mustang GTs.
The Mustang GT's modern 5.0-liter four-valve, Ti-VCT V-8 engine delivers 412 horsepower and 390 ft.-lb. of torque. At the same time, fuel economy of 25 mpg highway is projected to be better than the previous model and unsurpassed in the segment.
Approximately 9 percent of the 2011 Mustang orders are for Shelby GT500 models, which are powered by an all-new aluminum-block 5.4-liter supercharged V-8 engine. This produces 550 horsepower and 510 ft.-lb. of torque, a 10 horsepower increase versus the 2010 model. The engine also is 102 pounds lighter than its predecessor, delivering a better power-to-weight ratio, improved fuel economy, acceleration, handling and steering precision.
"Mustang is ready for a new generation of buyers," Ling said. "With new high-tech and fuel-efficient engines, class-leading connectivity and infotainment options as well as signature style and performance, Mustang is poised to continue its legacy as America's favorite sports car."
Source: Ford