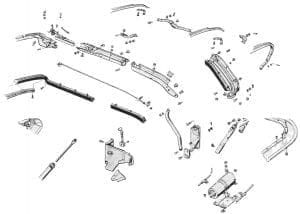 The 2010 Steeda Q550 Streetfighter edition was recently unleashed at the Los Angeles Auto Show and with the sinister look it means business.  Steeda is calling this Mustang the ultimate street performance vehicle and for good reason as the 550 horsepower motor will shoot this car from 0-60 in less than 4 seconds and quarter mile times in the 11 second range.  This type of power on the streets or drag strip could put most if not all factory cars to shame.
Equipped with the most extensive amount of standard suspension upgrades we have ever included on one of our production vehicles – including our Watt's Link Suspension system – this performance Mustang can easily pull 1.2gs.  There is simply no other serialized Mustang available today that offers the performance, styling, and performance attitude that this Mustang has.
"The Steeda Q550 Streetfighter achieves its massive power output from the Ford Racing/Whipple Supercharger assembly.  We selected the Ford Racing/Whipple supercharger application because it provides its power reliably over a broad rpm range on 93 octane fuel and is fully 50 state emission legal", commented Dario Orlando, President of Steeda Autosports.  "Delivering smooth power throughout the power curve is what this power package provides and it is a perfect power source for the Steeda Q550 Streetfighter Edition.  When mated with our unique performance pulley system and our other engine performance enhancements, this package really delivers the mail.
Jamie Allison, Ford Racing Performance Group Manager adds: "Dario Orlando and the entire team at Steeda Autosports have been a longtime and valued partner of Ford Racing and have many aftermarket offerings to choose from. We are excited and proud that they chose the FR 550HP supercharger to power their new Q550 Streetfighter Edition".
In addition to the supercharger assembly, the Q550's powertrain also is equipped with:
Steeda custom engine calibration
Steeda 11-13 psi belt drive kit
Steeda Tri-Ax® Shifter
Speed of Sound A-Pillar gauge cluster with Aeroforce gauges
Engine power is just part of the success story about the Q550 Streetfighter. While the exterior shares the same aerodynamic body modifications of the Q350 with the unique Steeda front fascia with openings for front brake duct cooling, the facia also incorporates unique vented openings for additional cooling. Additional exterior enhancements include:
Steeda rear spoiler tuned for maximum down force with the least amount of aerodynamic drag
Steeda rear facia that exhausts air from under the vehicle with extreme aero efficiency and minimal aerodynamic drag
Unique Steeda vented hood that exhausts the hot power robbing engine heat out and over the hood into the vehicle's slipstream with amazing efficiency.
"The real beauty of this performance monster lies underneath the vehicle. That is where we deployed every performance handling trick we have in our arsenal" commented Steve Chichisola, Master Mechanic/Technician at Steeda Autosports. "We have integrated the knowledgebase we acquired over the last 21 continuous years of building high performance Mustangs – more than any other Mustang aftermarket modifier – all into one fully cohesive package where ALL the parts are perfectly tuned to work in harmony towards delivering maximum suspension performance." The suspension modifications include:
Steeda/Tokico D-Spec shocks and struts
Steeda Upper Strut Mount Kit
Steeda Adjustable 3rd-Link Trailing Arm Kit
Steeda Lower Trailing Arm relocation brackets
Steeda Billet Lower Trailing Arms
Steeda X5 Ball Joint Kit
Steeda Bumpsteer Kit
Steeda Rear Swaybar
Steeda Rear Swaybar billet endlinks
Steeda Adjustable Front Swaybar
Steeda Watts Linkage kit
Steeda 3-point Frame Rail & Torque Box Brace Kit
The interior is yet another area where this vehicle speaks performance. Inside you will find it's interior very sleek, athletic, and totally ready for aggressive driving. From the illuminated Steeda doors sills that greet you when you open the door, the interior includes the following performance related amenities:
A thick, Alcantara leather wrapped steering wheel assures a firm and secure grip during performance maneuvers
Body hugging, adjustable, leather covered, carbon fiber backed Steeda Sport Seats
Safecraft Safety Equipment 6-Point Safety Harness
Safecraft fire extinguisher system
Four-point, leather wrapped DOM steel roll bar with cross bracing
Steeda floor mats
To plant the power to the pavement and also to ensure secure stopping power during the most aggressive conditions, the Q550 Streetfighter includes:
HRE Monoblock P40 wheels (20" x 9.5" front, 20" x 11" rear) with a brushed finish
Nitto NT05 High Performance tires (275/35 front, 315/35 rear)
Steeda/Baer 6-Piston High Performance Brake Package (six piston front –and- six piston rear brakes) with 15" crossed drilled and slotted rotors
The Steeda Q550 Streetfighter Edition will be available in the 1st quarter of 2010 from select Steeda Autosports authorized dealers. Look for additional updates in the near future regarding pricing and availability of this limited edition performance vehicle.