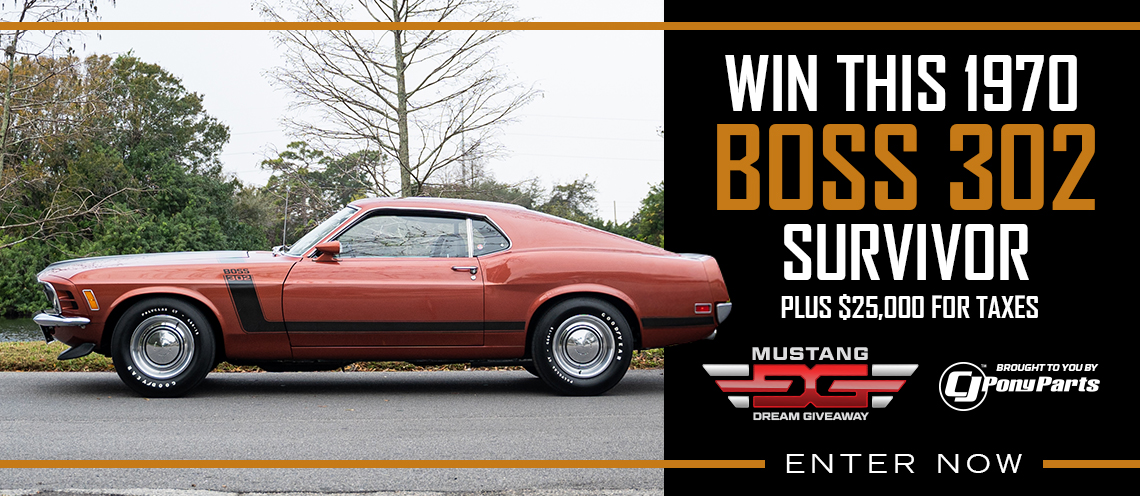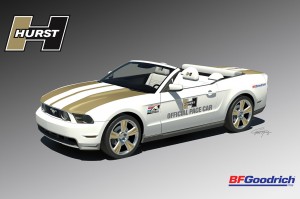 Hurst Performance Vehicles is partnering with BFGoodrich Tires to build a one-of-a-kind Roush supercharged 2010 Hurst Mustang convertible pace car.  The 2010 Hurst Mustang will pace the field for the last race of the Ford Racing Mustang Challenge event at Miller Motorsports Park on September 19th.  Some of the features on this Mustang include a Roush supercharger, Eibach suspension, 20-inch Hurst wheels, Magnaflow exhaust system and Katzkin white leather interior.
Read more about the Hurst Mustang convertible pace car belowin the press release.
Press Release:
Hurst Performance Vehicles, a company who is responsible for some of the most iconic pace cars in racing history, announced today that it has partnered with BFGoodrich Tires, to create a very special supercharged 2010 Mustang convertible to serve as the official pace car for the Ford Racing Mustang Challenge event held at Miller Motorsports Park.
The BFGoodrich/Hurst Mustang pace car will debut at the last Ford Racing Mustang Challenge race of the season on Sept. 19.
After its run with the Ford Racing Mustang Challenge, this unique and highly-collectible Pace Car will make special appearances at numerous race tracks, car shows, parades and even SEMA, before being auctioned for charity in January 2010. Proceeds of the auction will go towards benefiting the newest Victory Junction Camp in Kansas City, KS to enrich the lives of children with chronic medical conditions or serious illnesses.
Jason and Lance Pittack, Owners of Woodhouse Auto Family of Blair, Neb. have confirmed that they will once again partner with Hurst Performance and BFGoodrich Tires, to donate the vehicle for this project.
"Hurst and BFGoodrich both have wonderful rich histories in all forms of racing," said Nate Shelton, Chairman of Hurst Performance Vehicles. "We are proud to partner BFGoodrich to once again set the pace for others to follow and give something back to a deserving organization."
The stunning BFGoodrich/Hurst Mustang Pace Car comes equipped with 20″ BFGoodrich g-Force™ T/A® KDW tires for maximum performance and attitude; 20″ Hurst polished, forged aluminum wheels and a Hurst Competition/Plus short-throw shifter with a gold anodized T-handle.
The engine pounds out 435-horsepower and 400 lb.-ft of torque, courtesy of the ROUSH Supercharger, Magnaflow stainless-steel exhaust and a K&N Air Filter. With a Hurst-tuned Eibach Suspension, coil-over adjustable shocks, springs and sway bar, this car is sure to keep people straining just to see it zoom by.
"We are excited to combine our proud legacy and racing heritage with Hurst's incredible creations," said Doug Brown, brand category manager at BFGoodrich Tires. "This year's pace car showcases the fun and excitement of the Ford Mustang Racing Challenge and the tires are a perfect match for the exhilaration."
Other signature Hurst details include a traditional Hurst white on gold paint scheme, Katzkin white on black interior with gold detailing, Hurst-logoed floor mats and a Hurst AIR-SPEED rear deck spoiler.
Hurst Performance Vehicles feature BFGoodrich tires on all of its highly collectible limited production cars.
Article by: Doug Jaeger