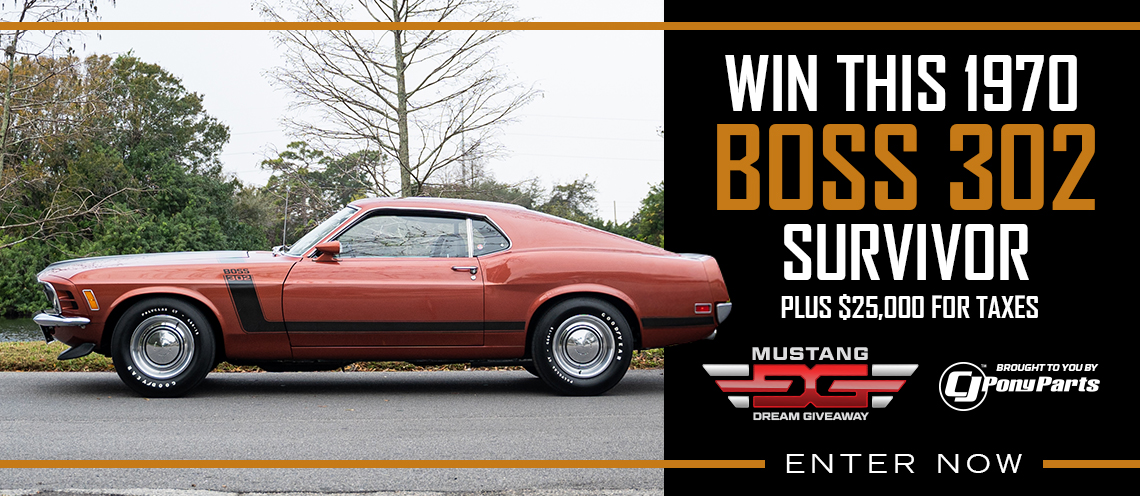 The Mustang variants are starting to heat up as Barrett-Jackson and ROUSH team up to offer the 2010 Barrett-Jackson Edition ROUSH Ford Mustang.  This limited edition vehicle will feature all the ROUSH body and suspension goodies you have come to love over the years including a 540 horsepower supercharged V-8.  Also these BJ ROUSH Mustangs mark the first time ROUSH Performance will re-painted a vehicle from bumper to bumper.  Cutomers who order one of these BJ Roush Mustangs can custom order the base coat and side stripe color in any combination from the 25 available Planet Color Barrett-Jackson Collector Color Series paints.  This special edition Mustang will be limited to a maximum of 25 units for 2010 and an additional 25 units for the 2011 model.
All Barrett-Jackson ROUSH Mustangs will receive embroidered leather seats, a four-piece pedal kit, illuminated door sills, a short-throw shifter, and a serialized numbered engraved plaque.
The BJ ROUSH Mustang package will set you back a cool $41,495 plus the price of a Mustang chassis.
The concept vehicle of this limited run which is depicted in the photo will be auctioned off at No Reserve during the Barrett-Jackson Palm Beach Collector Car event Saturday April, 3rd Live on the SPEED Channel.
For more on this new limited edition vehicle check out the press release below.
Press Release:
ROUSH Performance and Barrett-Jackson have teamed together to offer a limited edition, high-performance version of the Ford Mustang. The concept car for the Barrett-Jackson Edition ROUSH Mustang will be sold at No Reserve during the 8th Annual Barrett-Jackson Collector Car Auction in Palm Beach on April 1-3, 2010, at the Americraft Expo Center at the South Florida Fairgrounds.
"The 2010 Barrett-Jackson Edition ROUSH Mustang ties two leading automotive brands together in an amazing package combining performance and unique styling," said Jack Roush. "People who drive a regular production ROUSH Mustang are used to getting plenty of second looks.  But with the custom Barrett-Jackson paint in such gorgeous colors, these owners will experience envy on an entirely new level."
The concept vehicle will be auctioned to the highest bidder on Saturday, April 3 at the Barrett-Jackson event in Palm Beach, Fla.; the car is expected to be shown live during the SPEED broadcast. This Mustang will be painted with a base of metallic "Back in Black" with "Red Hot Chili Pepper" stripes on the front. This car will be the model for a run of up to 25 units based on the 2010 Mustang, and an additional 25 units on the 2011 chassis.
"The only thing faster than this muscular ROUSH Mustang concept set to go across the auction block will be the bidding," said Craig Jackson, Chairman/CEO of Barrett-Jackson. "With the ROUSHcharger, forged internal components and a resonator exhaust, this is one good looking Mustang that really moves."
With a maximum of 25 serialized units built on the 2010 chassis, this car represents the first time that ROUSH will completely re-paint a Mustang from front fascia to rear bumper.  Customers ordering the car, or the ROUSH authorized Ford dealerships that inventory a unit, can custom order both the base coat and the side stripes in any combination from the 25 available smoking hot Planet Color Barrett-Jackson Collector Color Series paints.
"We wanted to give customers the opportunity to enjoy the collectability of a very limited edition series of performance cars but still be able to customize it," noted Steve Davis, president of Barrett-Jackson. "By teaming with ROUSH and Planet Color, we merged the two, giving enthusiasts literally the best of both worlds."
In addition to the custom paint schemes, the 2010 Barrett-Jackson Edition ROUSH Mustang will sport 540 horsepower and 510 lb.-ft. of torque under the hood thanks to the R2300 ROUSHcharger® and several forged internal components such as the pistons and crankshaft. The Mustang will ride on 20-inch chrome wheels with high-performance Cooper RS3 tires; the suspension package includes ROUSH front struts, rear shocks, front and rear springs, front and rear stabilizer bars and jounce bumpers to turn any commute into a slalom course.
It comes fully-loaded with ROUSH body components to add to its appearance; resonator exhaust for a deep V-8 rumble; four-piston front brakes with 14-inch rotors and painted rear calipers with slotted rotors; and new upper and lower billet grille that removes the fog lamps and streamlines the appearance of the new Mustang while improving cooling performance.  Interior enhancements include leather seats with an embroidered Barrett-Jackson logo; four-piece performance pedals; ROUSH illuminated sill plates; short throw shifter with black or white ball; and a new interior badge with the serial number engraved.
The suggested retail for the 2010 Barrett-Jackson Edition ROUSH Mustang package is $41,495 plus the Mustang chassis. Each vehicle will be covered with the traditional ROUSH 3-year/36,000 mile warranty, and are available in manual transmission only. For more information on the 2010 Barrett-Jackson Edition ROUSH Mustang, or to see the complete content list, visit www.ROUSHperformance.com.