2008 Ford Mustang FR500CJ Cobra Jet
The 2008 Cobra Jet is an extensive options package designed by Ford Racing added to the V6 bodyline to create a track-only race car. The options package includes the 5.4L V8 with racing upgrades and optional supercharger, racing transmission, racing wheels and tires, racing suspension and handling, roll bars, all welded body seams, and tons more available from Ford Racing. The Cobra Jet is limited to 50 cars and are all white.
DEARBORN, Mich, Nov. 4, 2008 – Forty years after its debut, a legend of drag racing is back.
In honor of the 40th anniversary of the release of the first Ford Cobra Jet Mustang in 1968, Ford Racing is introducing the 2008 Cobra Jet Mustang, now available for customers to race in NHRA sportsmen classes during the 2009 season.
The new Mustang FR500CJ is officially being launched at the Ford press conference Nov. 4, as part of the 2008 SEMA Show in Las Vegas.
For decades, the Mustang has been the preeminent car in many forms of racing, including drag racing. Adding to the rich and successful racing history of Ford's iconic pony car, the 2008 Cobra Jet Mustang is a factory-built race car that is NHRA-legal and ready for the drag strip. It is the first purpose-built race car from Ford for drag racing since the original Cobra Jet Mustang.
"The Cobra Jet is one of the transformational vehicles for Ford Racing," said Brian Wolfe, director, Ford Racing Technology. "The 2008 CJ will get us more involved with the sportsmen racers in drag racing. At this point there are a lot of little guys who are running Fords from the 60s, 70s and even a few from the 80s, but those cars aren't necessarily relevant to what we are producing today.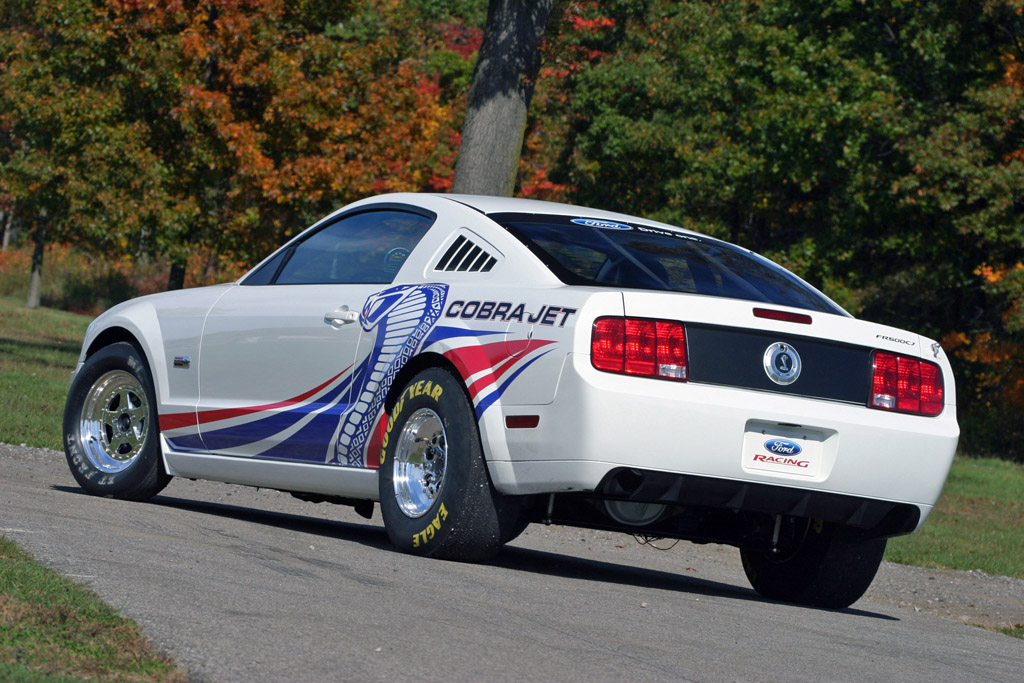 "Those Ford racers are among the most loyal Ford supporters and customers we have," Wolfe added. "The CJ makes a statement for our company that even in times as tough as these, we can introduce something as special as the Cobra Jet. As I guy who has tracked Ford history from the beginning and understands the significance of the CJ, this is by far the best factory drag car that we have produced."
The original Cobra Jet Mustang was conceived by drag racing legend Bob Tasca, the competition-oriented Ford dealer in Rhode Island who at the time operated one of Ford's most successful retail operations. Tasca looked to the Ford parts shelf when he wanted to upgrade the engines on some of the Mustangs that he was selling, and came up with the KR-8 conversion package for his performance customers.
Henry Ford II announced that Ford would put together several of the Tasca 428-powered Mustangs for drag teams competing in the 1968 Winternationals, where two of the Mustangs made it into the finals and Al Joniec went on to win the Super Stock championship. After the car's success at Winternationals, Ford announced that it would be producing the 428ci Cobra Jet engine.
"When I made the Cobra Jet engine available to Ford, they found out quickly how good it was and they decided to make it happen," said Tasca Sr. "My feeling has always been that Mustang should be the performance leader for the Ford Motor Company. I like performance that helps me sell the unit. What the Cobra Jet did for Mustang was phenomenal."
The 2008 Cobra Jet Mustang joins Ford Racing's stable of championship-capable customer Mustangs: the Mustang FR500S, the Mustang FR500C and the Mustang FR500GT. All are turnkey cars available via the Ford Racing Performance Parts catalog and through Ford dealers.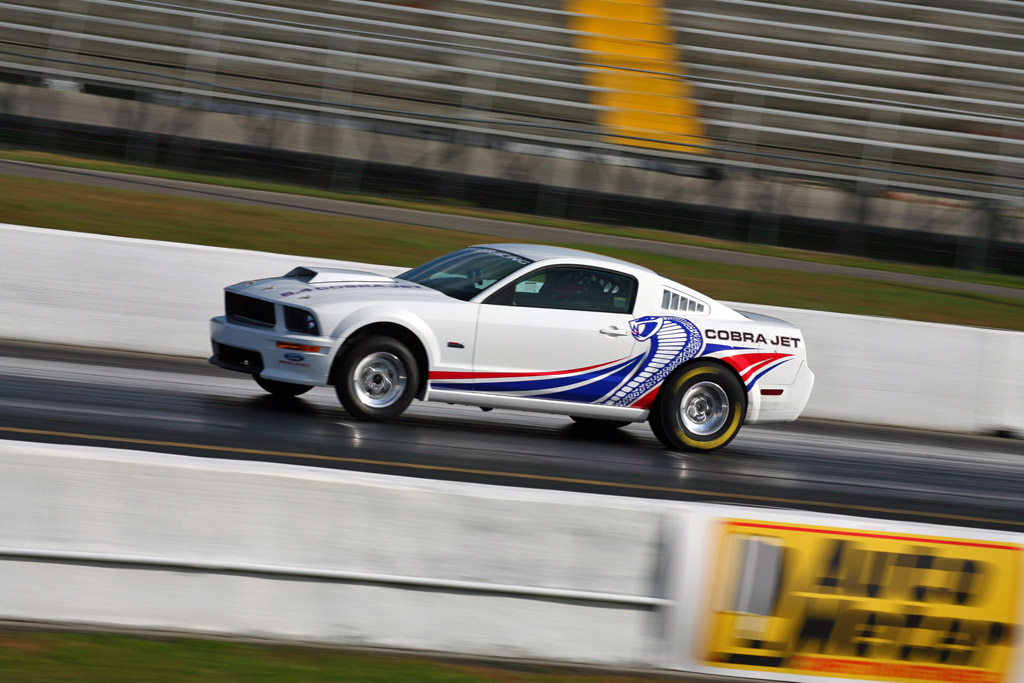 The FR500 series of Mustangs are race-ready cars, designed by Ford Racing engineers for performance-conscious customers, that can be rolled right off of a truck and win in competition. The Cobra Jet, as delivered, will be able to run in the 10-second range and be competitive as is, just like its sister car, the Mustang FR500C. The FR500C was unloaded for customers at the 2005 Grand-Am Rolex Series opening race in Daytona on a Wednesday, won the race on Friday and went on to secure a championship that first season.
And just like the Ford Mustang FR500S, the Cobra Jet Mustang will get its start at the Auto Alliance International (AAI) assembly plant in Flat Rock, Mich., before being sent to a Ford supplier to have additional parts installed and for final prep.
All of the additional parts and pieces for the CJ can be found in the Ford Performance Parts catalog. And since the Cobra Jet is produced from a base V-6 Mustang, any consumer can turn their Mustang into a Cobra Jet by purchasing the parts from the Ford Performance Parts catalog.
The car features a 400-hp 5.4-liter supercharged engine with a standard 6-speed manual transmission, automatic optional, and a drag race wheel/tire combination. The Cobra Jet is NHRA-legal to 10.00 second ETs and has an NHRA Stock Eliminator legal interior and is approximately 3,300 lbs. The car will also showcase a unique trim and appearance design and include an optional 2008 Cobra Jet graphics kit to distinguish itself.
The price of the 2008 Cobra Jet Mustang is $69,900. All 50 of the initial 2008 model vehicles have already been ordered by Ford dealers for delivery to customers. For those customers who miss out on the first run, there's no worry, as Ford Racing has set a goal to provide future versions of the Cobra Jet.
"We've built a Mustang for drag racing that we've very proud of," said Wolfe. "We're confident that this, like all Mustang race cars, will be competitive, and a value for those looking to enter a variety of sportsmen classes. We can't wait to see the car in the hands of customers."
The Cobra Jet will make its official public debut at SEMA on Tuesday, November 4, and production will begin immediately on the 50 CJs, with delivery slated for early first quarter of 2009. The 2008 Cobra Jet is expected to first compete in the 2009 Winternationals in Pomona, Calif., in February.
Ford Racing Part Number: M-FR500-CJ
Program Intent:
Provide a Mustang that is a true A Stock competitor
50 units initial build
Off-road only (VIN replaced by serial number)
Estimated pricing, $64,990 WD, $69,990 MSRP
Model Year 2008 designation
Build in December 2008, vehicles delivered February 2009
Vehicle Content:
400 hp (est.) 5.4L DOHC supercharged engine
6-speed manual transmission standard; optional automatic TBD
NHRA legal to 10.00 sec ETs
NHRA Stock Eliminator legal interior
Lightweight – 3,300 lbs (est.)
Unique trim and appearance package
Drag race wheel/tire combination
Cobra Jet graphics package
Orders/Feedback:
Vehicle orders should be placed with the Ford Racing warehouse at 1-800-367-3786.
Priority delivery will be given to orders of multiple vehicles.
Priority delivery will be given to orders of multiple vehicles
This order is a placeholder; dealers will not be billed until delivery of the vehicle to the dealer
An "off-road only" competition release will be required prior to delivery of a Cobra Jet to the dealer
Only 50 units are under consideration for 2008, so dealers are encouraged to submit their orders before June 30. Delivery will be prioritized based on order entry date.
The Cobra Jet Mustang (M-FR500-CJ) joins Ford Racing's two successful road racing Mustangs, the M-FR500-C and M-FR500-S, as turn-key race cars available only from Ford Dealers. We encourage you to take advantage of this unique opportunity to help rewrite history by ordering and campaigning this new race car.