For collectors, there are few Mustangs as highly prized as the Boss 429, largely due to its scarcity. While the Boss 429 is now known as one of the most revered, and highly desirable Mustangs to have ever been sold, this level of notoriety was never expected during the day in which the car was built.
In truth, the Boss 429's only reason for reaching production was to homologate its powerplant for future NASCAR use. As a result, Ford gave little thought toward marketing the legendary Mustang, which led to less than stellar sales.
The Boss 429 weathered only two years of production (1969-1970), before being dropped from the Mustang lineup. In all actuality, little separated the 1970 Boss 429 from its earlier counterpart from the year prior. Only a handful of modest cosmetic revisions and subtle engine modifications differentiate each of the two-year models from one another.
A Proud Look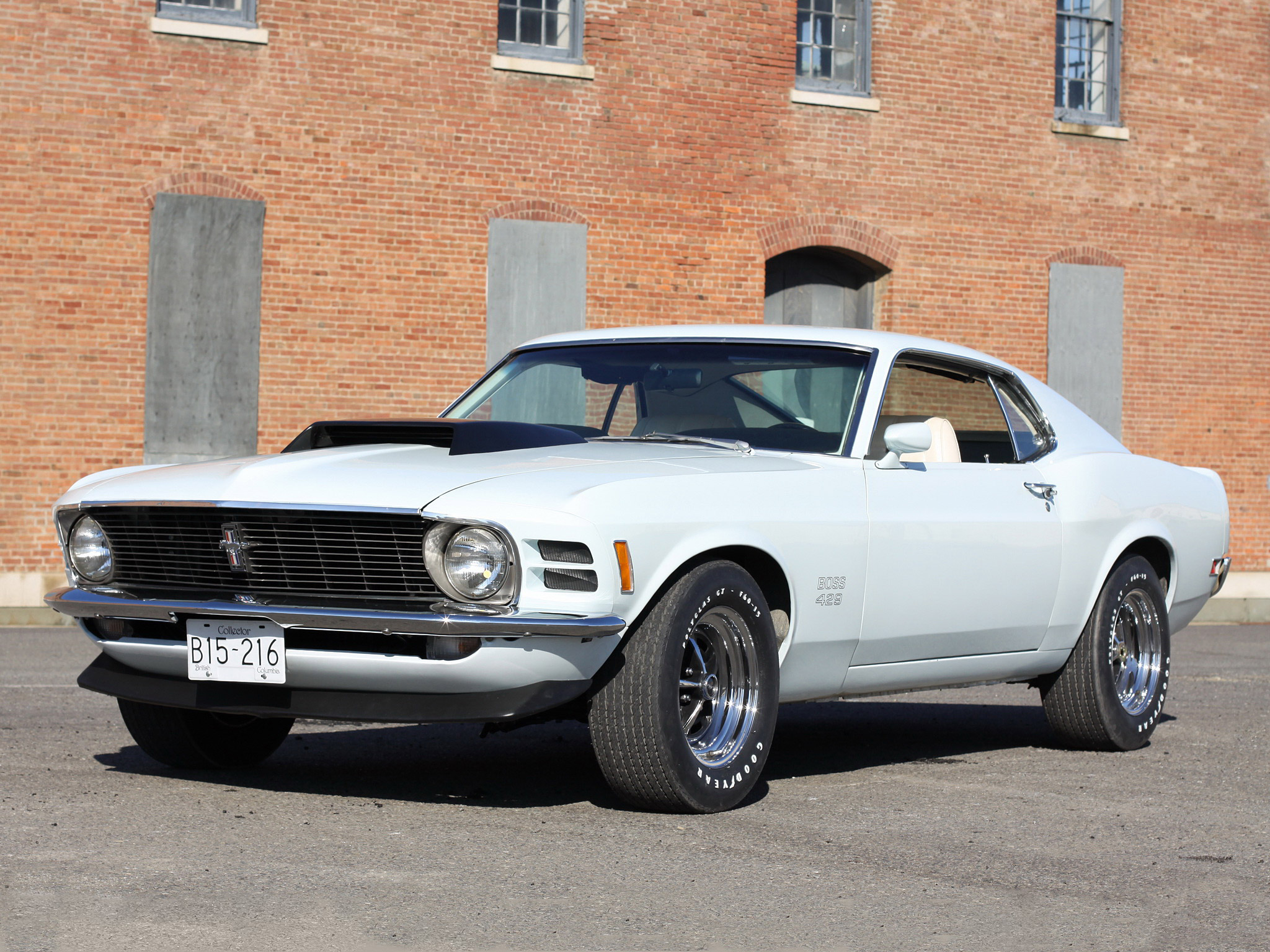 Built upon a Fastback body style, the Boss 429 carried a notable look of aggression. Returning for the 1970 model year, was the Boss' signature chin spoiler and "Boss 429" badging, as well as its pronounced hood scoop. However, all 1970 Boss 429 hood scoops were now painted flat black.
The 1970 model year also saw the Boss 429 lose its prior four-lamp front configuration. With twin dual-beam headlights in place, the 429 now featured matching air intakes at each front corner. Ironically the prior year's rear fender air scoops had now been deleted.
In 1970, the Boss 429 was available in only five colors; Grabber Orange, Grabber Green, Grabber Blue, Calypso Coral, and Pastel Blue.
A Refined Interior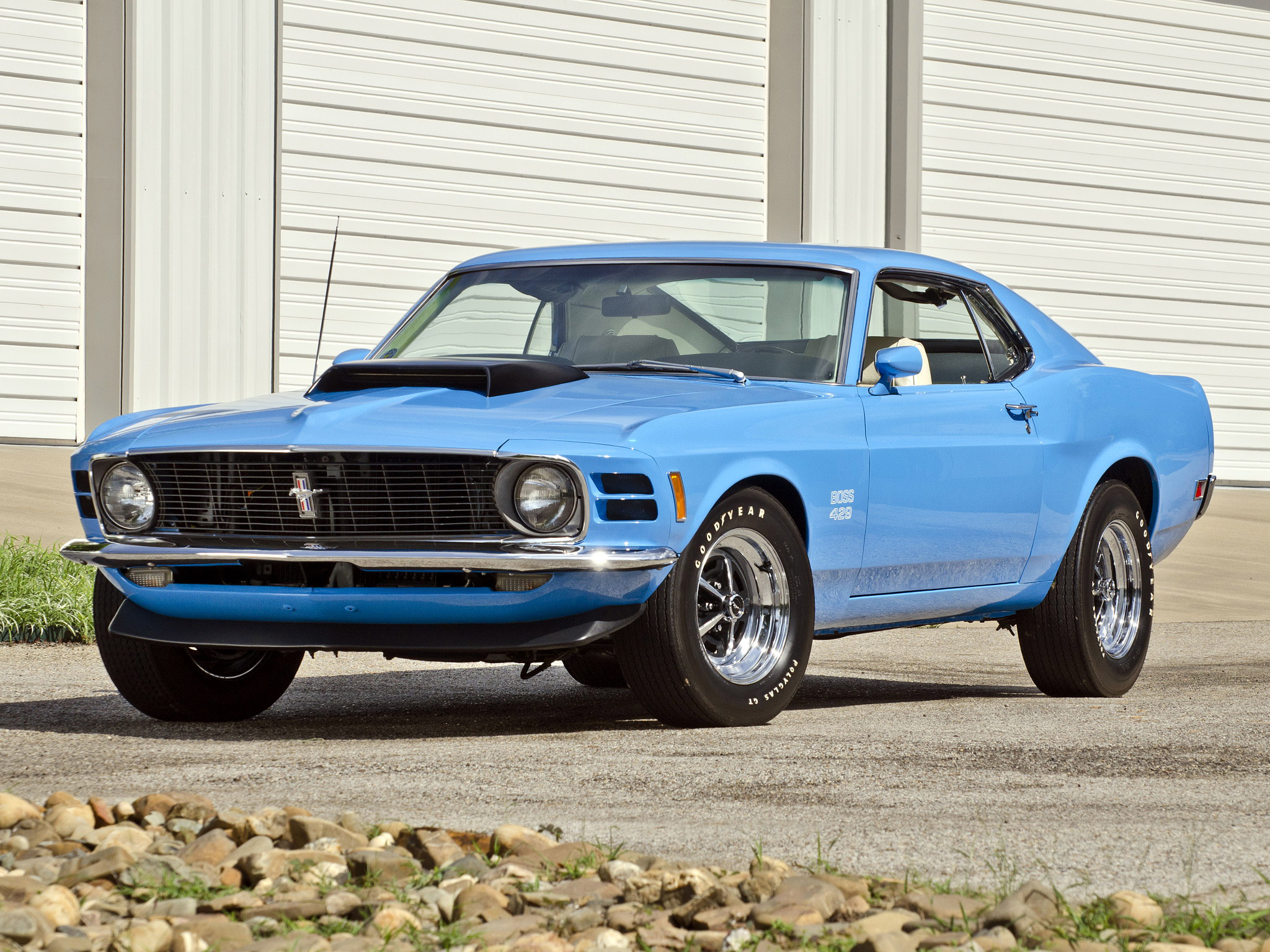 The 1970 Boss 429 came standard with Ford's Interior Decor group, which included "Comfortweave" vinyl bucket seats, simulated teak wood-grained trim, and a Rim-Blow steering wheel. Also featured was Ford's Visibility group, which included a parking brake warning light, glove box lock, luggage compartment light, ashtray light, glove box light, and a lighted ignition switch.
Additional interior features included a Deluxe seat belt with warning lights, dual knobs for a manual choke and ram-air actuation, and an optional upgrade instrument panel, which housed an 8,000 RPM tachometer. The 1970 Boss 429 did not include a fold-down rear seat, as had been standard of many prior Mustang models.
Also of note, was the fact that the 1970 Boss 429 could be ordered with a consumer's choice of black or white interior This was a departure from offerings of the year prior when only a black interior was available.
Unhinged Performance
The 1970 Boss 429 was best known for the immense power that it produced. Officially, the 429 was rated at 375 HP @ 5,200 RPM, though this number is thought to be extremely conservative in context. In fact, many reports refer to 500 HP as a more realistic number.
Under the hood of the 1970 Boss 429, was a 429 cubic-inch V8, which featured high-performance aluminum heads. The 429ci V8 relied upon 4.36-inch cylinder bores and a 3.59-inch piston stroke, to provide a compression ratio of 10.5:1.
This powerplant was upgraded for the 1970 model year to include a solid lifter camshaft and an upgraded Holley 735-CFM four-barrel carburetor. The 429's exhaust system was also revised to include straight-through piping, in place of the prior year's cross-flow muffler.
Power from the Boss' 429ci powerplant was directed through a Toploader four-speed manual transmission and a 9-inch Traction-Lok differential. Freshly converted horsepower was then relayed to the Boss 429's rear wheels through a set of 31-spline axles.
The Boss 429 also utilized Ford's competition suspension package, which included Gabriel hydraulic shocks, oversized front spindles, and semi-elliptic heavy-duty leaf springs, as well as front and rear anti-roll bars.
The now-iconic Mustang rode on a set of 15 x 7-inch, Magnum 500 five-spoke steel wheels. Fitted to these wheels, were Goodyear Polyglas F60-15 bias-ply tires.
Beyond Legendary
The Boss 429 would be dropped from production prior to the 1971 model year, achieving iconic status seemingly overnight. Today, the Boss 429 is remembered as one of the most race-worthy Mustangs to ever roll off of the assembly line. At auction, surviving Mustangs of this lineage routinely sell for $250,000.
1970 Ford Mustang Boss 429 Specifications
| | |
| --- | --- |
| Engine | 429ci V8 engine |
| Horsepower | 375  horsepower |
| Torque | 450 lb-ft of torque |
| 0-60 MPH | 5.1 seconds. |
| Quarter Mile Time | 13.6 seconds. |
| Weight | 3560 lbs |
| Base Price  | $4,087 |
| Production Numbers | 500 including two Quarter-Horse Mustangs |
Available Exterior Colors
The 1970 Mustang Boss 429 was available in Grabber Blue, Grabber Green, Grabber Orange, Calypso Coral, and Pastel Blue.
Available Interior Colors
The 1970 Mustang Boss 429 interior was available in black or white.
 1970 Ford Mustang Boss 429
We found a great video about the '70 Mustang Boss 429.