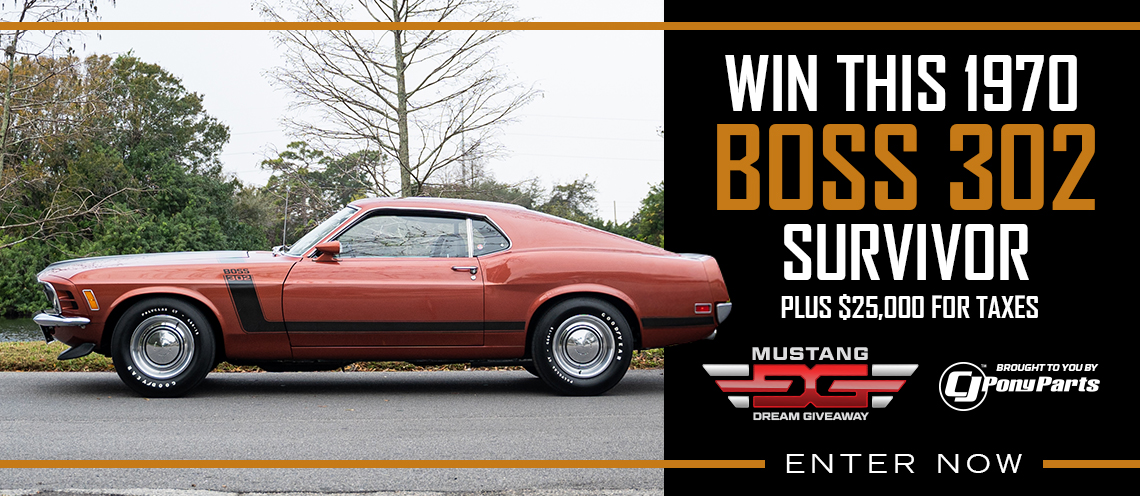 EXP 500 Green Hornet
The EXP 500 Green Hornet was actually a notchback Shelby. Its purpose was to test Conelec fuel injection as well as independent rear suspension. Later added to the Hornet were '68 Shelby hood a grille treatment.
Ford Motor Company produced a 1968 Mustang notchback coupe called Green Hornet at the Dearborn Assembly Plant in the fall of 1967 as the prototype for the launch of the California Special. It and big brother Little Red, a 1967 Mustang, are the only notchback coupes produced by Ford Motor Company and Shelby Automotive. Each had a vital role in the decision to produce a special Shelby notchback coupe for the western region of the United States that included California.
From 1967 through 1970, Green Hornet evolved as a prototype for Ford Motor Company and Shelby Automotive. In the first stage of its prototype form, the Lime Gold Mustang coupe started out as a template for the GT/Super Coupe program and wore the GT-SC script on the quarter panel side scoops, then morphed or transitioned into the GT/CS "California Special."
It was fitted with specially designed one-off features that included:
Unique front grille from a 1967 Mustang modified to accommodate a set of Marchal fog lights
Marchal fog lights
Louvered hood
Spin and Click hood pins
Filled-in quarter-panel side scoops with black backing and scoop grille inserts
Spoiler-style decklid and quarter-panel end caps
Taillight closeout panel with 1965 Thunderbird non-sequential taillights
Taillight backing plates
Side stripes
Decklid stripes
In the first quarter of 1968, the Green Hornet prototype was handed off to Shelby Automotive in Ionia, Michigan, where it was labeled EXP-500. Shelby Automotive added one-of-a-kind features designed to enhance performance while giving the notchback coupe a distinctive look. The Shelby enhancement package included:
428 CJ-X big-block V8 engine
Shelby-designed C6 automatic transmission
Independent rear suspension
Conelec fuel injection
4-wheel disc brakes
At the request of Shelby Automotive Engineer Fred Goodell, EXP-500 was handed off to custom painter Sonny Fee (an employee of Shelby Automotive), who applied a special one-of-a-kind gold-luster-green-lacquer paint finish with gold metallic flake enhancements. The EXP-500 filled a vital role as a prototype test mule for Shelby Automotive. It's the only documented Mustang notchback to have served as a dual prototype. Initially it served as the Ford Motor Company California Special prototype in late 1967, then Shelby Automotive EXP-500 prototype in early 1968.
Not long after the transformation of the '68 notchback coupe by Shelby Automotive to EXP-500 form, it was given the nickname "Green Hornet," presumably by comedian and actor Bill Cosby. He and Carroll Shelby had been friends. The Green Hornet nickname has stuck with the Shelby prototype for 50 years, and it's recognized by this name in the Shelby and Mustang community. It's commonly referred to as the Green Hornet.