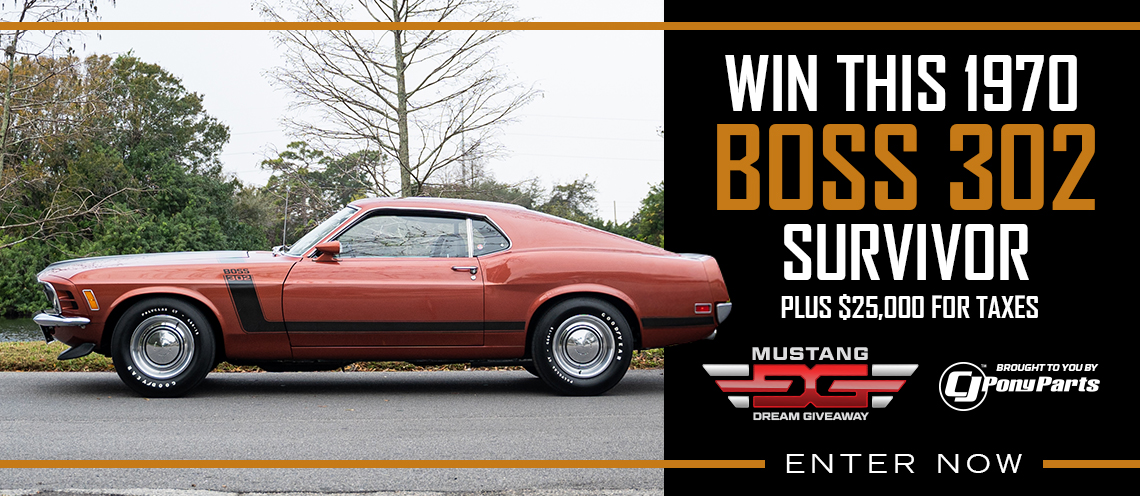 1968 Ford Mustang California Specials (GT/CS)
During the 1968 model run, the California Western region Ford Dealers offered a limited production Mustang which was based on the Shelby Mustang GT that was planned to be built, but was never actually produced. The California Special sprout from these cancelled Shelby GT plans.
The dealers in Southern California were selling about 20% of all mustangs. Some dealers were consistently selling over 30 cars per day. A Southern California district sales manager went to visit the Shelby plant and saw the coupe prototype "Little Red". He then went to Ford and took his pictures of the prototype and convinced them to make a special car to only be sold in California. The car was to be based on the Shelby prototype he saw.
The California Special was a base model Hardtop mustang with some added body components and mid-body striping. The GT/CS's were built only out of the San Jose, California plant. This mustang came with the Interior Decor Trim and Exterior Decor Trim package. Also on the exterior was a "ducktail" spoiler, 1965 Thunderbird tail lights, and a mid-body tape stripe.
Ford agreed to manufacture 5,500 of the cars in the San Jose plant only and they would be the CG/CS and High Country Specials. In the end, there were a total of 4,118 GT/CS mustangs produced in 1968.
Special parts for the cars were made in the A.O. Smith and A.G. Sterns Company plants and shipped to the San Jose plant for assembly. A problem occurred though and many other regions wanted the GT/CS cars as well. So in the end, the 4,118 cars ended up being sold from California to Texas, to Missouri and as far north as Canada.
Exterior stripe colors included white, metallic blue, red, and black. The GT/CS also featured a blacked out grill including two rectangular fog lamps and no running pony. Also featured was a functional louvered hood, simulated side air scoops, and a pop-open gas cap. Engines, transmissions, and rear axle options were the same as with any other standard mustang.
GT/CS Parts
Fiberglass trunk lid and quarter extensions
1965 Thunderbird tail lights
Pop-off gas cap
Fiberglass side scoops
Chrome quarter panel script (GT/CS only)
Unique body strip starting at the front fender and ending at the side scoop
A rear stripe starting at the bumper and traveling horizontally across the rear deck lid spoiler lip to terminate at the bumper at the other side.
Blacked out front grille
Fog lights (Marchal or Lucas)
Quarter turn hood locks
Only coupe body styles. No convertibles or fast backs
Any regular mustang engine, option or color available
Built only in San Jose Plant
The Advertising
Ford advertising description of the GT/CS from one of it's brochures:
GT/CS California Special Mustang. Limited edition. Inspiration by Shelby GT. But priced like a Mustang. Look at all the special equipment that's standard.
Blackout grille. rectangular fog lamps. Functional louvered hood with integral turn signals. Shelby-style rear end – a sassy spoiler, full-edge striping. Wide horizontal taillights. Pop-open gas cap. On the sides, simulated air scoops with "GT/CS" insignia. Special stripes. Naturally, GT/CS includes every other standard that's made Mustang famous. Bucket seats. Leather-smooth vinyl trim. Carpeting. Floor shift. And many more.
Best of all, you can "customize" a GT/CS into your own one-of-a-kind Mustang. It's done with Mustang's wide array of options. Make it posh. Sporty. Out of this world. Decorate it. Automate it. Some tempting options shown below. More where those came from. California made it happen! Make Mustang GT/CS happen to you now at your Ford Dealer's!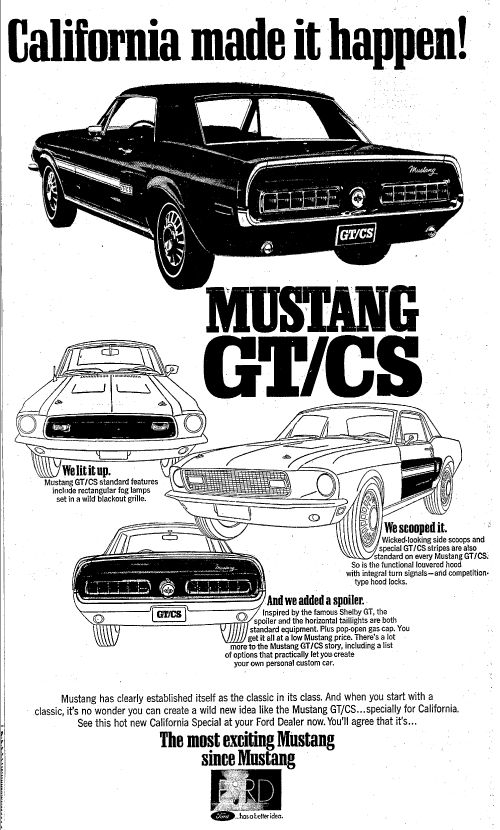 Production Numbers
| | |
| --- | --- |
| Model | Quantity |
| 1968 High Country Special | 251 |
| | 4,118 |
Pictures & Gallery