1968 Ford Mustang Bullitt Movie Car
The 1968 Mustang Bullitt was a Highland Green 1968 Mustang GT fastback used in the 1968 movie Bullitt starring Steve McQueen. The 1968 Ford Mustang Fastback (Bullitt – '599) is significant based on its association with an important person and event in American history and culture.
Additionally, it is significant due to its largely original, unrestored state that is informative to its history as a movie car and as an automotive icon that vanished from public view and was highly sought after for almost half a century. It has the incredible combination of Hollywood royalty and decades of an honest family's ownership and the secret that engulfed its mystery.
Car Details
Serial Number 8R02S125559
8 Build year 1968
R Built at San Jose, California plant
02 Mustang 2-Door Fastback
125559 Serial number of this car scheduled at the San Diego plant
63B Mustang décor 2-Door Fastback
R Highland Green paint color (Ford #3067-A)
6A Black vinyl luxury bucket seats
09A Scheduled for build January 9, 1968
7 Los Angeles (DSO (District Sales Office)
5  3.00 conventional rear axle
5  Four-speed manual transmission
Original Equipment Features: extra cooling package, GT equipment group, optional axel ratio, wide oval white sidewall nylon tires, power disc brakes, AM radio, interior décor group, deluxe seat belts, remote control left hand mirror and heavy-duty battery.
The actual build date was January 8, 1968.  It was sold on March 11, 1968.
Upon purchase, the car was prepared by Max Balchowsky for the use in the Bullitt (1968) movie with a second 1968 Mustang Fastback (VIN # 8R02S125558). These modifications included: Borg-Warner T-10 heavy- duty four-speed manual transmission, heavy- duty Borg-Warner clutch, 390 ci engine built by Balchowsky, milled heads, carburetor and distributor modification, 4:10 Positraction rear end, heavy-duty universal joints, 5-ton motor mounts, reinforced shock mounts, cross beam support bar, Helwig stabilizers front and rear, Koni shocks, heavy-duty coil springs, frame reinforcements, American Racing mag wheels, Dunlop 5:00 M-15 racing tires on the front, 5:75×10:40 15 Firestone GP Indy Tires on the rear, custom exhaust and a Shelby-type steering wheel.
All exterior Ford and Mustang badging was removed.  The Highland Green paint was scuffed to create a dull appearance.  Certain features were painted black, such as the rear gas cap.  The reverse lights were removed.
After filming the Bullitt car ('559) was repaired and painted (Highland Green) for resale.
The Story
The car was a 1968 Mustang 390 GT. The last thing in the world you'd take the green fastback for is a serious collector's item. Gifted with hindsight, it's difficult for us modern-day enthusiasts to consider owning the surviving Bullitt Mustang and thinking of it simply as transportation but, strangely enough, that's exactly how it has been treated by its three owners to this day.
Somehow, a great deal of controversy and misinformation has grown up around that car over the years. Several books and magazines have incorrectly reported the stories and facts behind this legendary vehicle and most of them have speculated that it was driven to death, then sent off to be crushed, simply because it had not been located.
There has been a long-running debate concerning the number of Mustangs purchased for the movie, what engines they came with and how many were actually used for the strenuous jumping and crashing scenes.
Legends seem to spin off their own myths — that is certainly true in this case — but we were able to cut through the muddled facts and dead ends to bring you the real story, as told by the first owner of the car and the man who now owns it (that's right, kiddies, it's been found).
The Legend Begins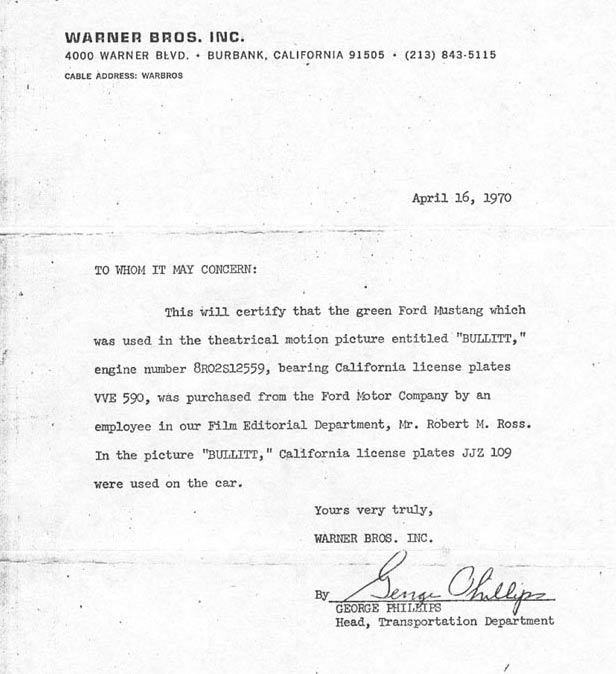 Steve McQueen was a hot property in Hollywood in 1968. He had just completed "The Thomas Crown Affair" with Faye Dunaway and he was enjoying the kind of star status leverage every actor works for. Because he wanted more control over the production of his movies, he signed a six-picture contract between his company, Solar Productions, Inc., and Warner Bros. Inc.
The first product of that collaboration was "Bullitt," based on the novel Mute Witness by Robert L. Pike. For the film (in which he plays an unconventional police detective), McQueen envisioned the most violent, realistic and dangerous chase scene ever attempted. It is a tribute to McQueen's persuasiveness and credibility that the city of San Francisco agreed to the mayhem he proposed creating on its streets. (It's easy to picture the meeting in which negotiations took place: "Okay, Mr. McQueen, you'd like to race two cars through our city at 100 miles an hour — could we interest you in burning down some of our buildings?").
Whether the choice of the Mustang was McQueen's idea or not is unclear; all we do now for certain is that two of them were bought for the movie, both were Highland Green fastbacks sporting GT packages and 390/4V motors. Likewise, two new Dodge Chargers were purchased, reportedly with 426-cid motors, for the bad guys to drive. "The man's name is Frank Bullitt. The last thing in the world you'd take Frank Bullitt for was a cop."
One Mustang was modified with extra welding, bracing and engine work to handle all of the heavy abuse — the jumping and crashing — while the other was used mostly during the high-speed scenes. Several pieces were removed from the cars, including the driving lights, running pony grille emblem, Mustang lettering and even the GT badges. Stock wheels were pulled in favor of sportier custom-made rims from American Racing. The modified fastback (the jump car) also received a rollbar-mounted camera so that thrill-seeking moviegoers could get a taste of what it was like to fly through the air above San Francisco's hilly pavement.
Not only did that Mustang get trashed performing the jump scenes, but it was also the car responsible for the fiery destruction of the Charger at the end of the chase. Special towing equipment was mounted to the passenger side of the Mustang and two dummies were placed in the Charger so that, through clever editing, it would look like the Mustang ran the Charger off the road into the gas station where it blew up. Because the main Mustang was so damaged by the time shooting ended, it is highly unlikely anyone at Warner even considered selling it.
Most of the people behind the movie recall that it was sent to a junkyard where it was eventually crushed. But what about the second car?
The First Owner
An employee of Warner Bros., named Robert M. Ross bought the car after production was finished. When we contacted Ross to interview him for this story, he politely but firmly told us, "It will be a long time before I talk to anyone about the Bullitt car after the last time." Ross went on to explain that a previous interviewer had misquoted him and "printed pure b.s." about the car.
Upon presenting him with the news that we had located the Mustang, he offered us some information but was still understandably reluctant to agree to a longer interview. Bill Norton is a longtime friend of Ross' who now owns Valley Ford Mustang in North Hollywood. He is one of the few people who can claim to have driven the Mustang when it was new.
"The car was not at all beat up like you might imagine," Norton recalls, "it was very nice because it had not been abused like the Mustang that did all of the jumping." "It was a fun car to drive," he told us, "very powerful but also very squirrely, especially one rainy night on the Ventura Freeway when Bob and I were going home from a party. It was also really noisy because it didn't have any soundproofing — apparently the movie people had used that car to make the 'live' recordings (that were later dubbed into the soundtrack)."
Ross only kept the fastback for a year or so, according to Norton, before he put it up for sale in Hemmings Motor News. "It was sold to a cop back east who wanted it shipped to him," Norton recalls. "I remember that it was sent by train because that was the cheapest way to transport a car back then and the guy was a little on the thrifty side." It seems that Norton got more from the Bullitt car than just his driving impressions: in a cardboard box at Valley Ford Mustang sit the GT driving lights that were removed before filming. Apparently, they went to Ross along with the car but did not wind up with the second owner.
The Second Owner
No one seems to have a name for the second Bullitt car owner. Bob Ross did not supply it during our brief conversation; Bill Norton couldn't remember it and no other previously printed material mentions it. Ross thought that he might have been a detective (like Frank Bullitt, perhaps) but didn't mention the city or state, only that it was somewhere on the East Coast. Near as we can figure, the Bullitt car stayed with that owner for approximately two years before the third and current owner found it for sale in the newspaper.
The Third Owner
In 1972, a 24-year-old man got the bargain of a lifetime when he happened upon the Bullitt car, with documentation, for what he says was "an unbelievably low price." Because he is now a successful businessman and has no intention of selling the car or considering any offers, we had to promise him total anonymity in exchange for his cooperation — we'll just call him "Joe." Why do we believe this is the bona fide product? Well, Joe sent us several pages of documentation, including copies of the first owner's card (registered by Bob Ross on Dec. 14, 1968, license plate VVE 590) and the latest (registered by "Joe" in his home state on March 7, 1978, license plate 850 IPZ). Both cards give the vehicle identification number as 8R02S125559, which matches the number from the Warner Bros letter.
Joe told us that he had not actually seen the car in almost six years because it is stored in a relative's garage on the East Coast, several states away from where he now lives. He was surprised to hear that his car had been the source of such speculation. He is not a hardcore Mustang enthusiast and tells us that his initial interest in the car was a combination of the low asking price and the fact that Steve McQueen had driven it. Joe's anecdotes about driving the car back up Bill Norton's stories about it being a real handful to drive and noisy at any speed.
In fact, during a rainstorm, Joe did some Frank Bullitt-style driving when he lost control of the fastback and slid 360 degrees around, resulting in some minor body damage. According to Joe, he has made no changes to the car but it was equipped with an aftermarket shifter and non-stock steering wheel when he bought it 18 years ago and that's exactly how it sits now, with approximately 40,000 miles on the odometer. "Otherwise," he told us, "the engine compartment, interior and paint all look original."
Despite the fact that he doesn't get to drive it much any more, he insists that it will never be for sale. Steve McQueen himself tried to buy it back in 1977 (click here to view) but Joe had already promised that it would not leave the family, flattered though he was by the offer. What are Joe's plans for the car? Does he foresee a restoration?
Steve McQueen's request not to restore the car matches Joe's own feelings about keeping it in original movie condition. Joe says that the fastback is protected from the elements and should be well-preserved for years to come.
Not a Happy Ending for All
Three years after attempting to buy back the Bullitt Mustang, Steve McQueen died of cancer and his collection of cars, motorcycles and antique toys was sold off.
Fun Mustang Bullitt Trivia
For his role as Frank Bullitt, Steve McQueen was voted World Film Favorite by the Hollywood Foreign Press Association.
Because "Bullitt" production cost much more than the budget allowed, Warner ended the six-picture agreement with Solar.
Many studio-owned cars were used in the film to interact with the Mustang and Charger and it is possible to see some of them over and over if you know what to look for. The most obvious repeats are: a yellow cab, a white '68 Firebird hardtop, a green Volkswagen Beetle, a four-door Cadillac and numerous Mustangs. Besides supplying realistic street scenery, company-owned vehicles were placed alongside the road to "catch" the Mustang or Charger in case they lost control.
Through the miracle of movie-making, the Charger loses a total of eight hubcaps during the chase scene.
Steve McQueen's letter attempting to buy back the Mustang is dated Dec. 14, 1977, one month after McQueen and his second wife Ali MacGraw divorced.