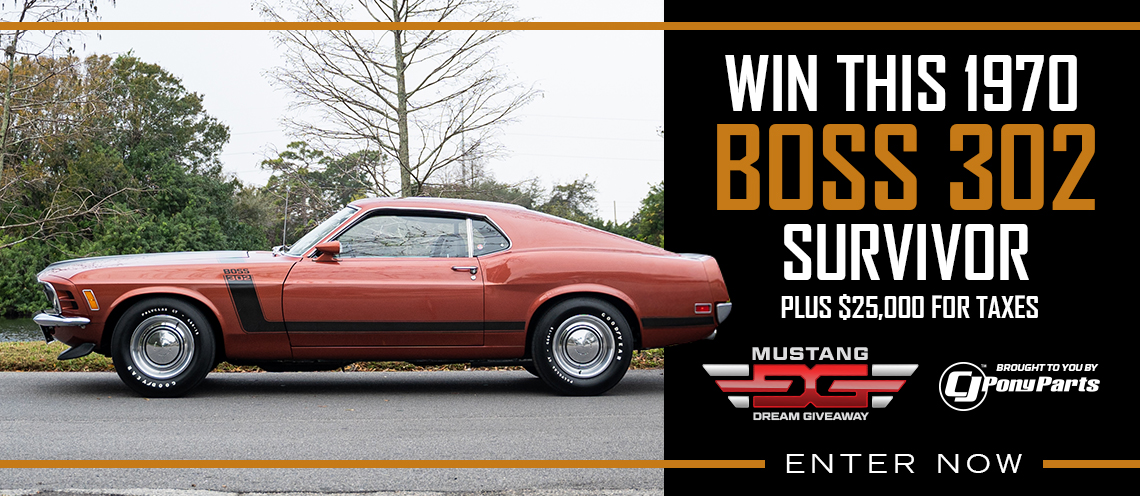 1968 NHRA Mustang GT Cobra Jet (135 Series)
n the late '60s, Ford built the Cobra Jet, a factory-produced drag racer. Six of these Mustangs entered into the National Hot Rod Association's (NHRA) Winternationals in February of 1968. Of these, four of the cars made it to finals, proving the impressiveness of the Cobra Jet engine.
With the Muscle Car horsepower race escalating for the 1968 season, Ford Motor Company introduced its all-new 428-cubic inch Cobra Jet engine. With 335 hp, the potent 428 CJ offered a huge leap in power over the smaller 390-cube V8, which was the top Mustang engine for 1967.
Bob Tasca of Tasca Ford in Rhode Island is credited with creating the engine recipe by mixing high-flowing 427 cylinder heads with the stout bottom-end of a FE 428 to create "Cobra Jet". Ford immediately saw the performance potential and built 50 lightweight 428 CJ Mustangs for drag racing to showcase its new powerhouse.
Prior to the '68 NHRA Winternationals, Ford delivered six of these special Mustangs to Holman Moody and Bill Stroppe in California for preparation that included a wide-ratio four-speed transmission, a 4.89:1 rear gear, roll bar, and Goodyear Blue Streak slicks. The Pomona-bound Mustangs also got improved induction, headers and the battery moved to the trunk for better traction.
"It was late 1967 and I was happily racing my 427 SOHC, fuel injected, altered wheel base, funny car when I got a call from the then-new drag race coordinator Chuck Folger," said Ford racer Al Joniec. "Since I was a member of the Ford factory team, he asked if I would run a new car that Ford was going to introduce at the 1968 NHRA Winternationals. I was curious and said it sounds good, but could you tell me more? He said it's going to be a real Mustang, one anyone can drive on the street, but it will go like hell. He said Ford is going to put together a combination of hybrid performance parts of the 428 engine and it's going to be called a Cobra Jet. I told him that was a great name and sign me up, and that's how I became one of the drivers of the 6-car Ford team."
Joniec and his team drove from the east coast, picked up the Cobra Jet Mustang, lettered it and were off to the races. But before heading to Pomona, Joniec made a camshaft swap that gave his Cobra Jet a horsepower advantage. At the Winternationals, Joniec's Rice Holman Ford-sponsored entry won the SS/E class and then went on to claim the very first Super Stock national victory for a Cobra Jet Mustang with a run of 11.49 at 120 mph.
Fifty Wimbledon White 1968 NHRA Mustang GT Cobra Jet race cars were ordered for the 1968 National Hot Rod Association Winternationals in Los Angeles. VIN numbers range from 8F02R135007 to 8F02R135056 and the first batch of 18 were scheduled for assembly on December 30, 1967 with delete export brace, 428ci Cobra jet, GT option, steel wheels, aluminum intake, Wimbledon white, and no racing stripes. These cars were 135-series rated (VIN series). Gas Ronda, Jerry Harvey, Hubert Platt, Don Nicholson, Hubert Platt, and Al Joniec raced them for Ford at the 1968 NHRA Winternationals held February 2-4.1968 NHRA Mustang GT Cobra Jet