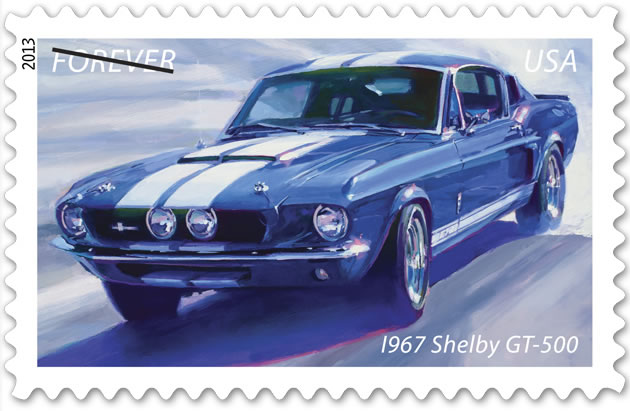 As a tribute to Carroll Shelby and the 1967 Shelby GT500 the United States Post Office will issue a Forever Stamp as part of its 'Muscle Cars' issuance of stamps.  The Shelby GT500 stamp was created by Artist Tom Fritz who based his artwork on photographs of the cars. Fritz said he used bright-colored oil paints on hardboard to try to "capture the emotive quality of the vehicles." Growing up in Southern California, Fritz became familiar with the power of muscle cars and the paintings are "a projection of my memories of the vehicles."
'Muscle Cars' is the third issuance in the America on the Move series. The stamps were designed by art director Carl T. Herrman. The first issuance in the series, 50s Sporty Cars (2005), was followed by 50s Fins and Chrome (2008). The Muscle Cars stamps are being issued as Forever stamps in self-adhesive sheets of 20 (4 of each design). Forever stamps are always equal in value to the current First-Class Mail one-ounce rate.
Other vehicles receiving Forever Stamps include the 1969 Dodge Charger Daytona, 1966 Pontiac GTO, 1970 Chevelle SS and a 1970 Plymouth Hemi Cuda.
The Shelby GT500 stamp will be available for purchase on February 22 at any U.S. Post Office across the country or online at USPS.com.
About the 1967 Shelby GT500:
The 1967 Shelby GT-500 was powered by a 428-cubic-inch, 355-horsepower Police Interceptor engine. The car also featured a rear spoiler and optional dealer-installed LeMans stripes. Rocker panel stripes came standard on the 1967 Shelby GT-500, which also sported grille-mounted headlights. A scooped fiberglass hood, extended nose, and interior roll bar and shoulder harnesses further enhanced the racecar feel.
The 1967 Shelby GT-500 was more than just a racer. The improved suspension softened the ride, resulting in a vehicle that was comfortable to drive on the highway as well as on the track. The car was both striking and rare; only 2,048 were built. A customized or original version of the 1967 Shelby GT-500 has appeared in contemporary movies and magazines, rekindling American pop culture's fascination with the model. In 2007, Ford reintroduced the Shelby GT-500 into the Mustang model lineup with an engine capable of over 500 horsepower.  The 2013 iteration of the Shelby GT500 is powered by a 5.8-liter supercharged V8 producing 662 horsepower.  The GT500 has sure come a long way since its introduction in 1967.
Source: USPS.com