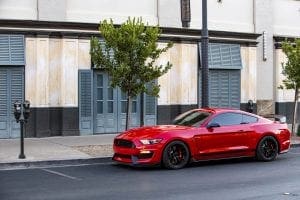 First off I will admit I know nothing about RC cars but after coming across this new officially licensed 1967 Ford Mustang Fastback from Vaterra it might be time to jump in and purchase one. Weighing only 3 lbs. this 1967 Mustang RC car is 1/10th scale and has some pretty impressive features which mimic a high-end exotic sports car.
The body of the vehicle grabs your attention right away with its highland green paint scheme and its Bullitt/Eleanor themed body.
The 1967 Mustang Fastback RC car features a V100-S chassis, shaft-driven 4WD with sealed differentials, low-profile tires with discs and calipers, waterproof electronics and a potent Dynamite power system. The body is made of a polycarbonate plastic and features an injection molded chassis. It measures just 14.85 in length and has a height of 4.4 inches.
Check out the photos and video below of this unbelievable 1967 Mustang RC car. Purchase price for this RC car is a realistic $289.00 complete and read to run. Can be purchased over at HorizonHobby.com.