The last few years have seen online vehicle marketplaces grow exponentially. While buying and selling cars online has been a thing for a long, long time now, these marketplaces have seen a significant increase in customer base over the recent past.
One of the most critical factors contributing to this was the pandemic. Consumers were forced to take their buying and needs selling online, which led to a massive influx into the online car market. Today, more vehicles are being bought and sold online than ever before.
The large-scale growth has also led to several new websites entering the space. Older websites, meanwhile, have undergone significant updates to stay relevant. With all these developments, finding a reliable online marketplace has become increasingly challenging. This is also primarily why people stick to sites like Autotrader, which has been around for decades.
If you're in the market for a pre-owned car like a classic Ford Mustang, it's worth checking multiple avenues to see your options. While the websites listed below are trusted sources, you should still inspect the car in person before putting down any money.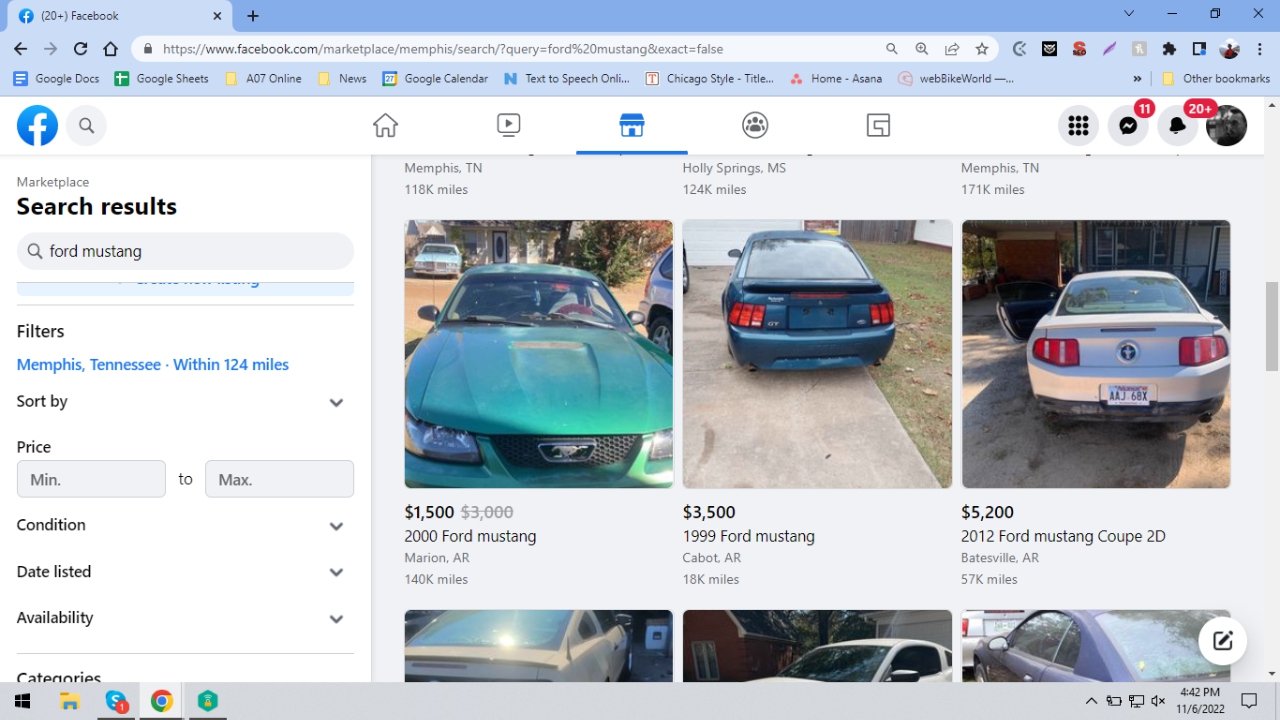 Via Facebook.
Facebook Marketplace
Facebook Marketplace is one of the fastest-growing Autotrader alternatives. It has a lot going for it, but it stands out because it is convenient to use if you already have a Facebook account. Even if you don't, creating one is not too difficult. If the application is installed on your phone, it will also use the location feature to automatically show ads around you.
Looking to find a 2000 Ford Mustang in your vicinity? You also have the option to toggle the distance of the ads. For example, you can set it to show you ads posted within a 10 or 100-mile radius.
Another highlight of Facebook Marketplace that Autotrader lacks is the impressive algorithm it uses for recommending ads. It doesn't take more than a few searches for the algorithm to learn information like your price range and vehicle preference. The fact that most users of this marketplace have the Facebook application installed on their phones makes the messaging system among the best. While Facebook Marketplace has a lot going for it, it's not explicitly designed with vehicles in mind.
That's also where you will notice its limitations. When looking for a vehicle here, you will not have the option to refine the search as well as any of the other websites on the list. This means that if a specific Mustang (like a special edition) is listed as a standard Mustang, you won't come across it if you search with terms that include that particular version's name.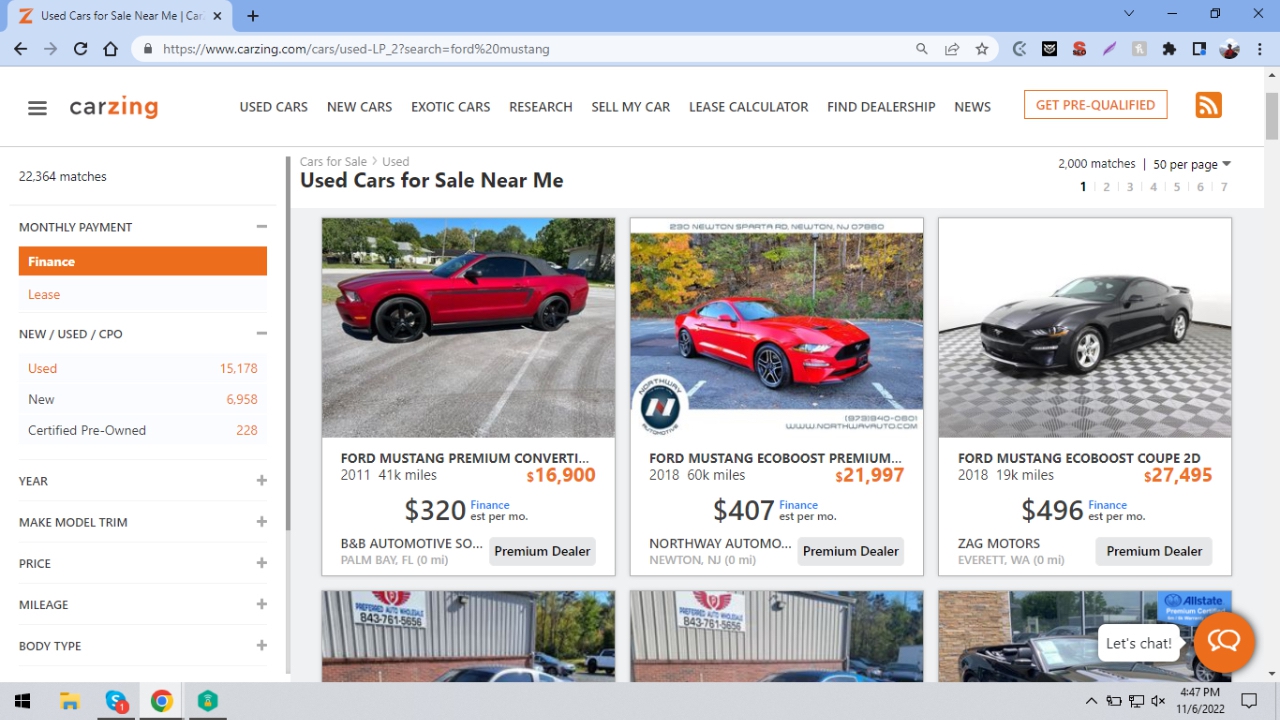 Via CarZing.
CarZing
Next on the list of Autotrader alternatives is CarZing. It wouldn't be fair to classify this website solely as an online marketplace, as so much more is offered. Let's begin with used cars. You will be greeted with many accurate options as soon as you go to the CarZing site. Right away, you can choose the body style (Foxbody Mustang, anyone?), make or even look at the trending searches. This feature can cut your search short and take you directly to the ads.
The used car search tool allows you to find examples by the make, model, or even keyword. There's also a section that lets you enter the zip code and search radius to ensure you aren't looking at cars on the other side of the country. Once you find a Mustang you like, you can head to its page, where you will find quite a lot of information.
Along with essential details like mileage, transmission, and variant, it's also quite common to find the vehicle's VIN. AutoZing also specializes in other services, including the option to buy new cars and financing.
The website has a dedicated calculator that will allow you to determine your monthly payments. This is a service offered for both used and new cars. If you want to sell your Ford Mustang, CarZing is worth considering as it's effortless and ensures a competitive price. Shop for cars at Carzing now.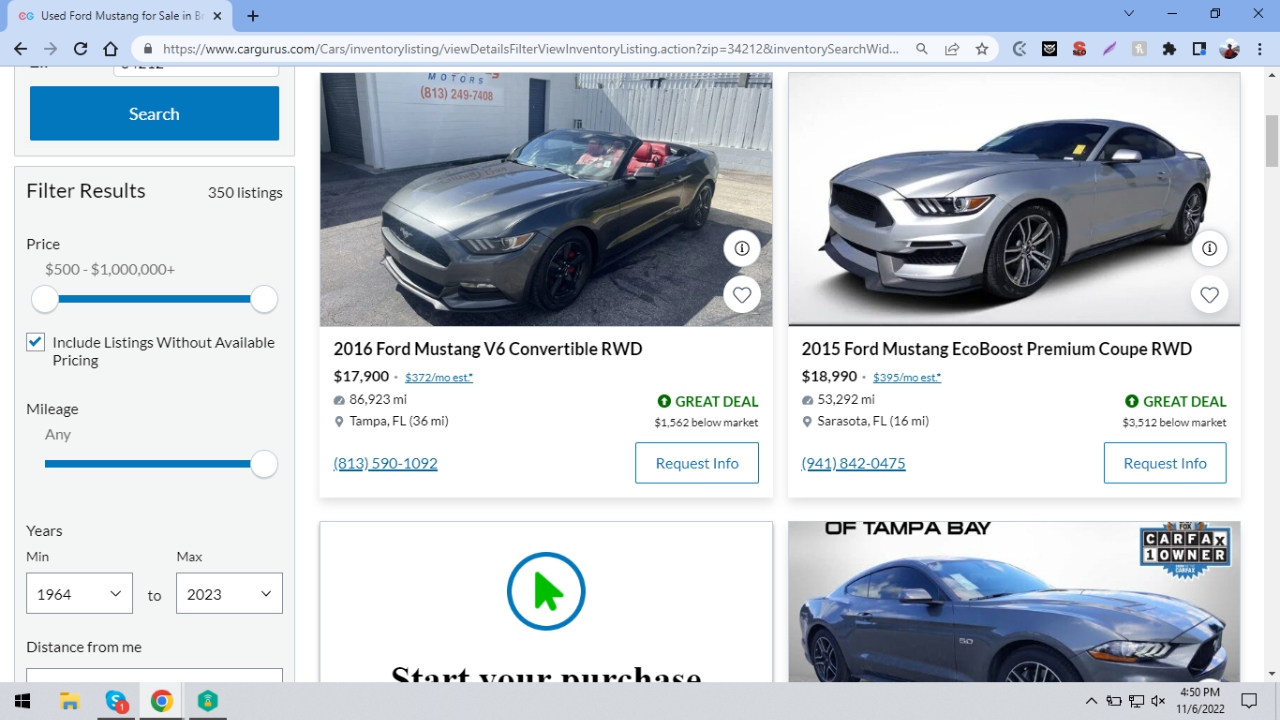 Via CarGurus.
CarGurus
CarGurus is another good alternative and one that goes unnoticed at times. Unlike some of the other websites listed here, the first option on the homepage of the CarGurus website is to sell your car. One of the first options is to enter their license plate information. That will gather as much information as possible to generate a quote. The following two options include buying used and buying new. Both have pretty simplified search tools to keep things simple.
It is only further on in your search that you will be given a chance to find specific details like the price range, mileage, and more. While this might seem like an added step, keep in mind it's designed to be friendly to all new users. The CarGurus website also has an extensive list of popular searches as you scroll down on the home page. While it's designed to make things easier, it's cluttered and difficult to navigate. The lack of images of vehicles in this is also doing no good.
Things change for the better once you reach the website with the listings. There are only two listings in a row, giving each one a lot of room, resulting in large images. The listings also give you an idea of how the price of the vehicles compares to their market value.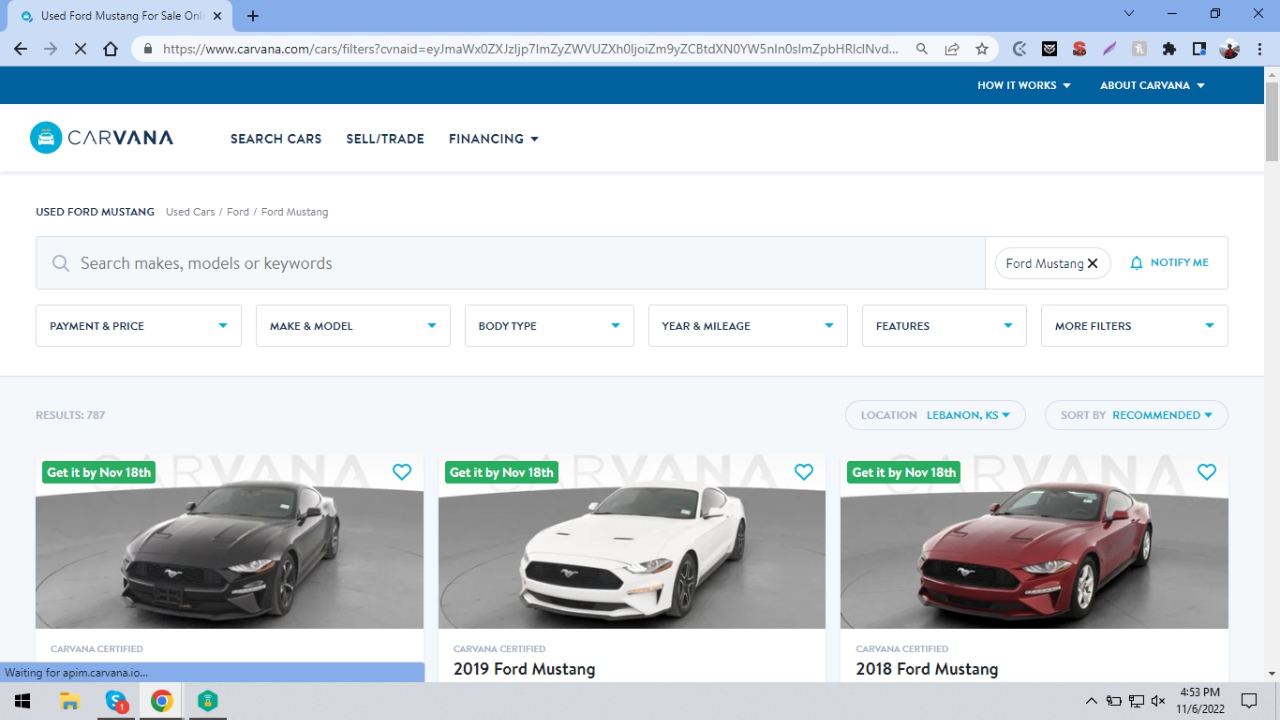 Via Carvana.
Carvana
Carvana may be new, but it's a big player in the used car space. It might be one of the easiest places to get a Ford Mustang because of its popular delivery service. Carvana buys and sells used cars like most websites on this list while providing financing if required. Carvana is slightly different from the other marketplaces listed here because it sources vehicles from auctions, trade-ins, dealerships, and private sellers. The company acquires them for a lower price and then makes a profit during the sale.
Carvana can do so because it has developed a reputation by selling cars that have been inspected properly. As you'd expect from an online marketplace, Carvana has no physical showrooms, which means the entire buying and selling process is conducted online. The company pick-ups and delivers cars to your home. If you want to pick up a car from a place other than your home, the company has 34 car vending machines in the USA.
As you can imagine, this method worked quite well during the pandemic, and Carvana also added a touchless delivery method. The company is said to have witnessed a 25 percent uptick in car sales during that period.
Via eBay Motors.
eBay Motors
In terms of online marketplaces, eBay Motors is among the best to acquire or sell a Ford Mustang of each generation. Give eBay a shot if you are in the market for an early Mustang. The website has been around for ages and has been the same throughout, which makes navigating it straightforward. The eBay Motors section is quite similar to the conventional website, but you can refine your search on it.
The company has simplified tutorial videos on eBay Motors to help you understand how it works. The application lets you connect with buyers and other car owners, which can help you clear any doubts. What makes this marketplace a worthy Autotrader alternative is its popularity. The higher the traffic on the website, the more variety on offer. Along with variety, you also get new ads every few hours, depending on the car's rarity.
eBay Motors is worth considering if you are looking at selling as well. It directly connects sellers to buyers and vice versa, which is the best way to get the highest price. That said, you need to be a little more careful as these vehicles aren't inspected like some other websites on this list offer. eBay motors are also the only marketplace on this list to offer a bidding facility. This allows you to buy the vehicle for an amount lower than the fixed price.