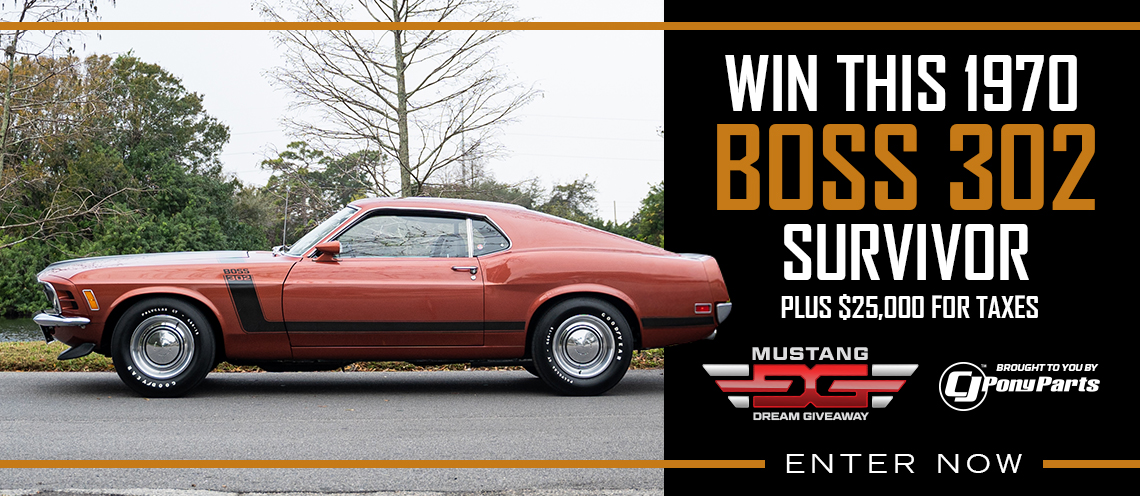 2011 Ford Mustang Mechanical Information & Drawings
Axle Information
| | |
| --- | --- |
| Axle code on B pillar | Axle ratios & type |
| BB | 3.73 |
| CC | 2.73 Locking mandatory on GT automatic transmissions |
| DD | 3.55 locking Std. on manual transmissions |
| GG | 3.31 |
| YY | 3.15 |
Brake Information
Ford Racing sells a SVT Front Brake Upgrade Kit that radically improves stopping. It can be bought for about $1200 .
The Ford Racing SVT brake kit includes massive 4-piston calipers manufactured by Brembo.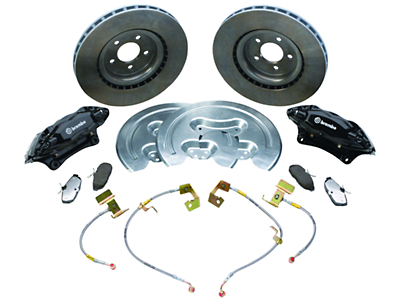 The bolt-on SVT front brake upgrade kit includes a pair of 4-piston black anodized Brembo calipers, two high performance 14″ vented rotors, front and rear brake pads, and Goodrich DOT-approved stainless steel brake lines. Please note that the included Goodrich stainless steel brake lines fit the included Shelby GT500 calipers only.
The Ford Racing SVT front brake upgrade kit is designed for use with ABS-equipped 2005-2014 Mustangs only, including the GT, V6, Bullitt, GT/CS, and Shelby GT. Requires 18″ or larger rims for proper clearance. Fits V6 05, 06, 07, 08, 09, 10, 11, 12, 13, 14. Also fits GT's for the years 05, 06, 07, 08, 09, 10, 11, 12, 13, 14 as well as 08 and 09 Bullitt's and the 2010 & 13 Bosses.
Technical Notes. This kit will not fit any of the Bullitt wheels or the FR500 wheels. It will fit the 18×9 GT4 and 18×9.5 Shelby GT500 wheels designed for the 2005+ Mustangs. This kit requires the use of 18″ or larger rims for clearance, and all other styles should be test fit to ensure proper fitment. It will only fit ABS equipped Mustangs.
Electrical Information
Exhaust Information
Although these images may look alike, there are differences in pipe diameter, muffler numbers, tips and hangars. As I add this additional information, to the images, they will diverge.
2011 Mustang V6 exhaust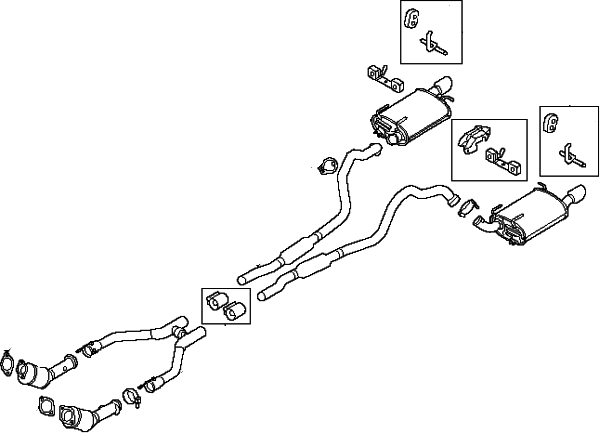 2011 Shelby GT500 exhaust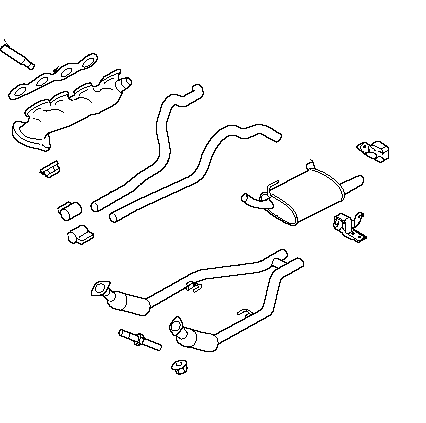 2011 Shelby GT500 exhaust
Transmission Information
Vacuum Information
Wheel and Tire Information