1982 Mustang Engine Information – 302 cubic inch V-8 (5.0 L Windsor V8)
The "5.0L" Ford Small Block V8
The 302 cubic inch engine was introduced in 1968 to the Mustang. Although it is a derivative of the 289 mustang, some parts are not interchangeable. In fact the block of a 289 cannot be used without some machining. Since the 302 crankshaft is larger, it requires a notched out section in the engine sidewall to allow the connecting rod end bolts to pass. If you are unsure of the parts you are using to build an engine, check tolerances carefully.
Both the engines are 90 degree V8's.  Both are built well and will run forever if you treat them right.  I have put well over 500,000 miles on a 302 with minor problems and good maintenance. I have also owned a 1965, 1966 and 1967, 289 CID engine.  They all pull strong and have lasted. Good maintenance as with everything is the key.
All 302 engines with the exception of the Tunnel Port and the Boss have 2 bolt mains. The Tunnel port has 4 bolt mains and the 302 Boss has 4 bolt mains and is cross bolted as well. All 302's drank regular gas except the Tunnel port and Boss engines, they gulped premium gas. Of all the 302 engines, only the Boss had solid adjustable lifters all others had hydraulic lifters.
On the distributor side of the equation, the Boss utilized a dual point, vacuum advance distributor with RPM limits of 5,950-6,050 in 1969 and 6,050-6,150 in 1970. The street 302's and the Tunnel Port used a single point vacuum advance distributor.
The 302's life cycle lasted from 1968 to 1973.  In 1974 do to the normally invasive Federal government's BS and a contrived oil shortage, Ford no longer offered the V8 powerhouse in the Mustang. However, for reasons unknown to consumers an anemic 302 was offered again in 1975 through 1978. In 1979, it was stopped and came back in 1982 with the moniker of 5.0L.
I will attempt to provide information on the birth, evolution, disappearance, resurrection and final death of the 302 (5.0L) in 1995. Very few other engines have had a life span of about 30 years. This is a testament of the quality and performance of this engine. This also explains why there is a great abundance of aftermarket parts available at very reasonable prices.
The 302 had a late Ford blue engine block color and late Ford blue valve covers.  The 5.0L engine was gray on gray.  Some later 5.0L engines were simple the cast iron block color on the block and gray valve covers.
Engine Basics
| | |
| --- | --- |
| Year | 1982 ("M" Code) |
| bbl | 2 barrel |
| Cylinders | 8 |
| Power (hp) | 157 hp @4,000 RPM |
| Torque (lb/ft) | |
| Compression | |
| Displacement | 302 cu / 4.94 liters |
| Bore x Stroke | 3.781 x 3.126 |
Engine Specs (302 cid V8)
F.O. 1-3-4-2
Cylinders front to rear 1,2,3,4
Firing order for most v8 engines except for 302 HO & some 351's
Firing order for the 302 HO engine
Valve arrangement: R. Side I E I E I E I E Front to rear
Valve arrangement: L. Side E I E I E I E I Front to rear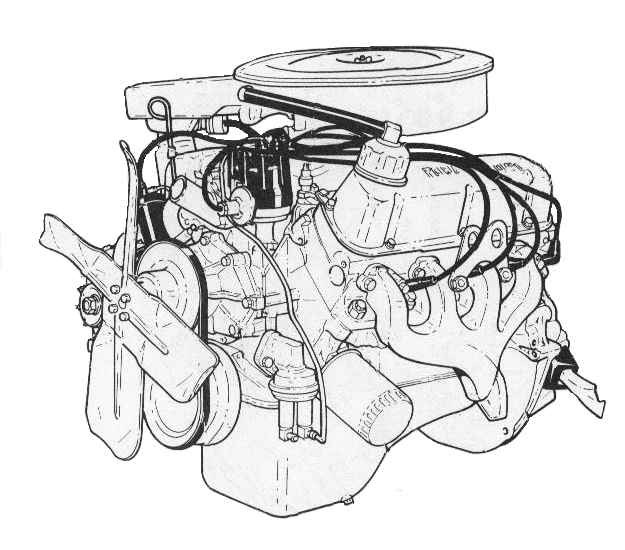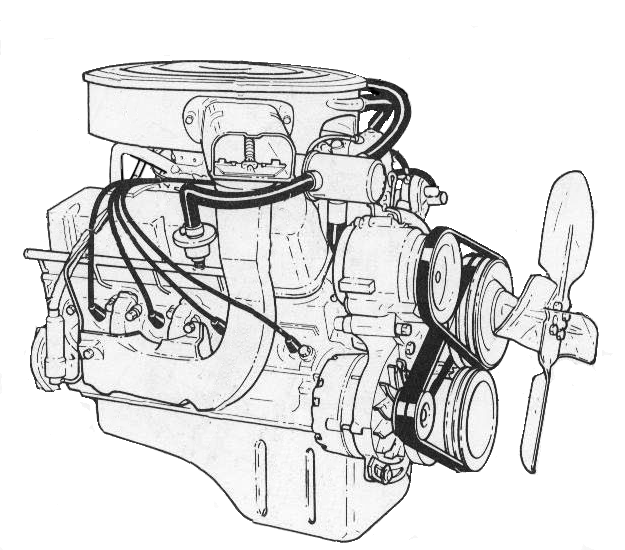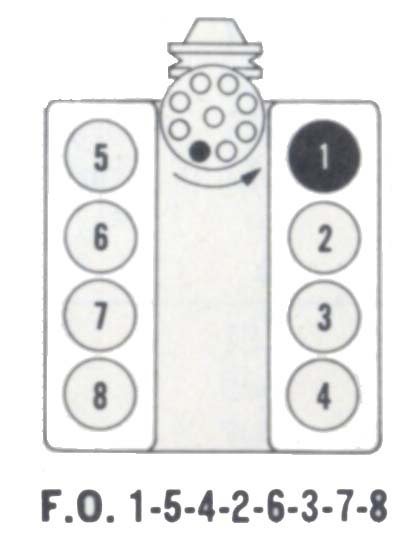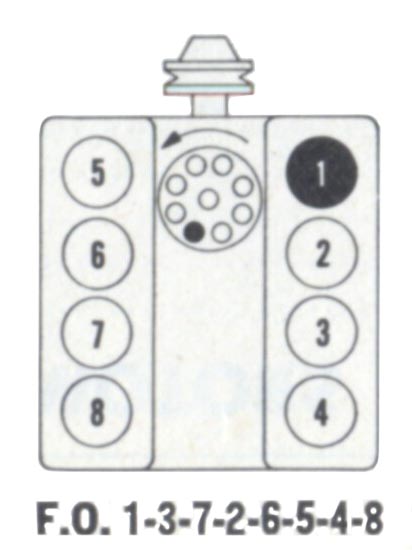 | | |
| --- | --- |
| Cylinder compression pressure | |
| Oil pressure | |
| Spark plugs | |
| Cylinder head warp limit | 0.003 in 6″ or 0.06 overall |
| Thermostat starts to open / full open up to 1988 | |
| Thermostat starts to open / full open 1988 and up | |
| Radiator cap pressure | |
| Timing | 10 BTDC with spout disconnected |
| Valve stem to rocker arm clearance non-HO | 0.096-0.014 |
| Valve stem to rocker arm clearance – HO | 0.123-0.146 |
| Valve stem to rocker arm clearance non-HO allowable | 0.071-0.171 |
| Valve stem to rocker arm clearance – HO allowable | 0.098-0.198 |
| Timing chain deflection | .5 " |
| Manifold Vacuum | 18 inches at idle |
| Distributor Rotation Counter Clockwise | |
Engine Torque Specifications
All torque specifications provided in this table are those recommended by FORD. If you use special bolts, follow the torque specifications provided by the manufacturer. I recommend that you use the 3 step torque technique where you torque down the bolts in three equal steps. Once you have reached the maximum recommended torque setting, go around one more time. Do not torque in a circular pattern. Always torque cross to cross.
| | |
| --- | --- |
| Cylinder head bolts except 1993 flanged | 55-65, then 65-72 |
| Cylinder head bolts 1993 flanged bolts | 25-35,45-55, then an additional 1/4 turn |
| Upper Intake manifold bolts | 12-18 |
| Intake manifold to block bolts | 23-25 |
| Oil filter to insert engine block | 20-30 |
| Exhaust manifold bolts non- 1993 Cobra | 18-24 |
| Exhaust manifold bolts 1993 Cobra | 26-32 |
| Valve covers | 10-13 |
| Flywheel/drive plate bolts | 75-85 |
| Rocker arm fulcrum bolts | 18-25 |
| Oil pan to engine block bolts 1979 small bolts | 7-9, then 10-12 |
| Oil pan to engine block bolts 1979 large bolts | 11-13, then 15-17 |
| Oil pan to engine block bolts 1980-1987 | 9-11 |
| Oil pan to engine block bolts 1988 & up | 6-9 |
| Oil pickup tube to main bearing cap nut | 22-32 |
| Oil pump mounting bolts | 22-32 |
| Crankshaft sprocket bolt | 40-45 |
| Crankshaft pulley crank bolt | 70-90 |
| Camshaft retaining plate bolt | 9-12 |
| Main bearing cap b olts | 60-70 |
| Connecting rod cap nuts | 19-24 |
| Timing chain cover bolts | 12-18 |
| Water pump bolts | 12-18 |
| Thermostat housing bolts to 1987 | 9-12 |
| Thermostat housing bolts 1988 & up | 12-18 |
| fan pulley to hub bolts up to 1989 | 12-18 |
| fan clutch to water pump 1990 & up | 15-22 |
| Shift lefer attaching bolts | 17-25 |
| Auto transmission pan bolts C4 & C5 | 12-16 |
| Auto transmission pan bolts A4LD | 8-10 |
| Auto transmission pan bolts AOD | 6-10 |
| Engine mount to block bolts | 85 |
| Engine mount to frame nuts & bolts | |
| Carb to intake 2150 2V | 14-16 |
| Carb to intake 4180-C 4V | 14-20 |
| Oil pan drain plug | 12-16 |
| Pedal support brake bracket | 13-25 |
| Spark plugs 1979 – 1987 | 10-15 |
| Spark plugs 1988 7 up | 5-10 |
| Wheel lug nuts | 80-105 |
| Front hub nut | 17-25, back off nut, then re-torque to 10-15 |
| Bellhousing to engine bolts | 28-38 |
| Pressure plate to flywheel | 12-24 |
| Driveshaft flange | 70-95 |
| clutch self adjuster nut | 17-26 |
Valve Specifications
| | |
| --- | --- |
| Minimum valve margin width | 1/32 |
| Intake & exhaust valve seat angle | 45 degrees |
| Intake & exhaust valve face angle | 44 degrees |
| Intake & exhaust valve seat width | 0.060-0.080 |
| Intake & exhaust valve face runout limit | 0.002 |
| Intake & exhaust valve seat run-out limit | 0.002 |
| Intake stem diameter Standard | 0.3416-0.3423 |
| Intake stem diameter – 0.015 oversized | 0.3566-0.3573 |
| Intake stem diameter – 0.030 oversized | 0.3716-0.3723 |
| valve stem to guide clearance – standard | 0.0010-0.0027 |
| valve stem to guide clearance svc. limit | 0.005″ |
| Exhaust stem diameter – standard | 0.3411-0.3418 |
| Exhaust stem diameter – 0.015 oversized | 0.3561-0.3568 |
| Exhaust stem diameter – 0.030 oversized | 0.3711-0.3718 |
| Exhaust valve stem to guide clearance std | 0.0015-0.0032 |
| Exhaust valve stem to guide clearance-limit | 0.0055 |
| Valve spring pressure – intake 1979, 1980 valve open | 190 to 212 @ 1.36″ |
| Valve spring pressure – intake 1979, 1980 valve closed | 74 to 82 @ 1.78″ |
| Valve spring pressure – intake 1981, 1982 valve open | 196 to 214 @1.36 |
| Valve spring pressure – intake 1981, 1982 valve closed | 74 to 82 @ 1.78″ |
| Valve spring pressure – intake 1983, non-HO valve open | 196 to 214 @1.36 |
| Valve spring pressure – intake 1983, HO valve open | 194 to 214 @1.33 |
| Valve spring pressure – intake 1983, ALL valve closed | 74 to 82 @ 1.78″ |
| Valve spring pressure – intake 1984 – 1987 valve open-non HO | 196 to 214 @1.36 |
| Valve spring pressure – intake 1984 – 1987 valve open- HO | 215 to 235 @ 1.33″ |
| Valve spring pressure – intake 1984 – 1987 valve closed, non-HO | 74 to 82 @ 1.78″ |
| Valve spring pressure – intake 1981, 1982 valve closed, HO | 76 to 84 @1.79 |
| Valve spring pressure – intake 1988 and up valve open | 211 to 230 @1.36 |
| Valve spring pressure – intake 1988 and up valve closed | 74 to 82 @ 1.78″ |
| Valve spring pressure – exhaust 1979, 1981 valve open | 190 to 210 @ 1.20 " |
| Valve spring pressure – exhaust 1979, 1981 valve closed | 76 to 84 @ 1.60″ |
| Valve spring pressure – exhaust 1982, 1983 valve open | 195 to 215 @ 1.05″ |
| Valve spring pressure – exhaust 1982, 1983 valve closed | 71 to 79 @ 1.60″ |
| Valve spring pressure – exhaust 1984-87 non-HO valve open | 195 to 215 @ 1.05″ |
| Valve spring pressure – exhaust 1984-87 HO valve open | 210 to 230 @ 1.15″ |
| Valve spring pressure – exhaust 1984-87, non-HO valve closed | 71 to 79 @ 1.60″ |
| Valve spring pressure – exhaust 1984 – 1987 valve closed- HO | 79 to 87 @ 1.60″ |
| Valve spring pressure – exhaust 1988 and up valve open | 200 to 226 @ 1.15″ |
| Valve spring pressure – exhaust 1988 and up valve closed | 77 to 85 @ 1.60″ |
| Valve spring pressure service limit | 10 % loss |
| out of square limit | 5/64 |
| Installed height intake 1979 – 1987 non HO | 1 43/64 -1 45/64 |
| Installed height intake 1979 – 1987 HO | |
| Installed height intake 1988 and up | 1 3/4 to 1 13/16 |
| Installed height exhaust 1979 – 1987 non HO | 1 37/64 – 1 39/64 |
| Installed height exhaust 1979 – 1987 HO | |
| Installed height exhaust 1988 and up | 1 37/64 – 1 41/64 |
| Valve lifter diameter standard | 0.874-0.8745 |
| Lifter bore clearance | 0.0007-0.0027 |
| lifter bore clearance service limit | 0.005 |
Crankshaft Specs
| | |
| --- | --- |
| Connecting rod journal diameter | 2.1228-2.1236 |
| Connecting rod journal out-of-round / taper limit | 0.005″ |
| Connecting rod Bearing oil clearance desired | 0.0008-0.0015 |
| Connecting rod Bearing oil clearance allowed | 0.0008-0.0024 |
| Connecting rod side clearance std. | 0.010-0.020 |
| Connecting rod side clearance allowed | 0.023 |
| Main Bearing journal diameter | 2.2490-2.2482 |
| Main Bearing journal out_of_round limit | 0.0006 |
| Main Bearing journal taper limit | 0.0004 per inch |
| Main Bearing journal runout – Standard | 0.002 |
| Main Bearing journal runout – limit | 0.005 |
| Main bearing oil clearance 1979-1981 #1 journal | 0.0001-0.0015 |
| Main bearing oil clearance 1979-1981 #all other journals | 0.0004-0.0015 |
| Main bearing oil clearance 1979-1981 #1 journal, allowable | 0.0001-0.0017 |
| Main bearing oil clearance 1979-1981 #all other journals, allowable | 0.0004-0.0021 |
| Main bearing oil clearance 1982-1984 #1 journal | 0.0004-0.0025 |
| Main bearing oil clearance 1982-1984 #all other journals | 0.0004-0.0015 |
| Main bearing oil clearance 1982-1984 #1 journal, allowable | 0.0001-0.0030 |
| Main bearing oil clearance 1982-1984 #all other journals, allowable | 0.0004-0.0021 |
| Main bearing oil clearance 1985 and up desired | 0.0004-0.0015 |
| Main bearing oil clearance 1985 and up, allowable | 0.0004-0.0021 |
| Crankshaft endplay – Standard | 0.004-0.008 |
| Crankshaft endplay service limit | 0.012 |
| Cylinder bore diameter 1979 – 1986 | 4.0004-4.0052 |
| Cylinder bore diameter 1987 – up | 4.0004-4.0048 |
| Cylinder bore out-of-round limit | 0.005 |
| Cylinder bore taper limit | 0.01 |
| Pistons diameter, 1979 – 1987, code red | 3.9984-3.9990 |
| Pistons diameter, 1988 and up, code red | 3.9972-3.9980 |
| Pistons diameter, 1979 – 1987, code blue | 3.9996-4.0002 |
| Pistons diameter, 1988 to 1993, non-HO code blue | 3.9984-4.9992 |
| Pistons diameter, 1993 HO code blue | 4.0009-4.0030 |
| Pistons diameter, 1979 – 1987, code yellow | 4.0020-4.0026 |
| Pistons diameter, 1988 to 1993, non-HO code yellow | 3.9996-4.0004 |
| Pistons diameter, 1993 HO code yellow | 4.0015-4.0021 |
| Piston diameter 0.003 in oversize through 1987 | 4.0008-4.0014 |
| Piston to bore clearance limit, 1979-1987 | 0.0018-0.0026 |
| Piston to bore clearance limit, 1988 & up | 0.0030-0.0038 |
| Piston ring end gap, compression rings, 1987-1992 | 0.010-0.020 |
| Piston ring end gap, oil ring 1987-1992 | 0.015-0.055 |
| Piston ring end gap, compression rings, 1993 HO top ring | 0.010-0.020 |
| Piston ring end gap, compression rings, 1993 HO second ring | 0.018-0.028 |
| Piston ring end gap, oil ring 1993 HO | 0.010-0.040 |
| Piston ring side clearance, compression rings -Standard | 0.002-0.004 |
| Piston ring side clearance service limit | 0.006 |
| Piston ring side clearance oil ring | Snug fit |