1973 Mustang Wheels
A summary of the wheel options for the 1973 model year Mustang
In 1973, most attention was being given to the new Mustang II currently under development. As with the rest of the 1973 Mustang, there was very little change in wheels and wheel dressings. The Magnum 500 wheels previously offered were gone. In their place were some cheaper looking Forged Aluminum Wheels. These wheels were not limited to the performance cars, they could be had on any body style. Radial tires were offered as on option for the first time in 1973. The Grande received a deluxe wheel cover unique to that line.
Other than stated above, there were 3 choices for hub caps that were offered on all models in 1973. Base wheel covers were a 10.5 inch hub cap with color keyed wheels, hub cap with trim ring, and Sports wheel covers are the same as in 1972. Most Mustangs in 1973 were sold with a flat brushed aluminum wheel cover that had 15 black painted depressions around the perimeter. It also had the word mustang printed around the center twice
All wheels are 5 lug. And bolted on a standard E70x14 black sidewall tire except on the Boss Mustang.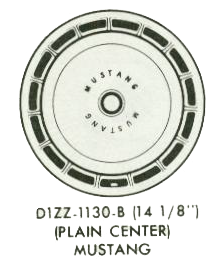 This wheel was optional in 1973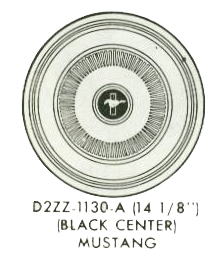 Standard on Grande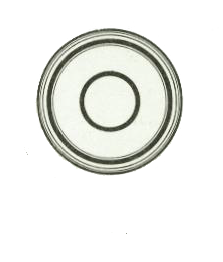 10 1/2 inch base hubcap was std on MACH1. It was mtede witha chrome wheel ring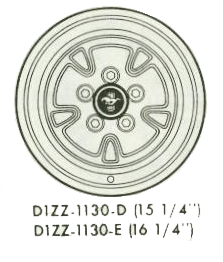 This sporty wheel cover was optional and available on all models. Similar to the wheel cover used in 1970
Center cap for Aluminum Wheel
To the right is the Magnum 500 wheel offered on all models with competition suspension. Wheels are avaialble in 15 inch only and F60x15 tires. To get this wheel a space sver tire was mandatory.